As local experts in water leak detection locally based in York, one of the methods we use is thermal imaging inspection cameras for leak detection, and other services. It is one of many advanced leak detection techniques which we utilise to effectively find water leaks in your home or local business too.
Thermal imaging inspection cameras used in leak detection can be used to find various types of water leak, but it is especially beneficial for finding these types of water leak in properties:
We discuss some of these, including some fascinating images in our previous article about thermal imaging leak detection. If you have a water leak in York, or the local area, contact our team for help and assistance.
In this article, to highlight how thermal imaging inspection cameras work, and what they are capable of, we took some interesting images of a hot day in York, including some familiar sights of the city. Some of these are places we included in our local guide on the best free things to do in York.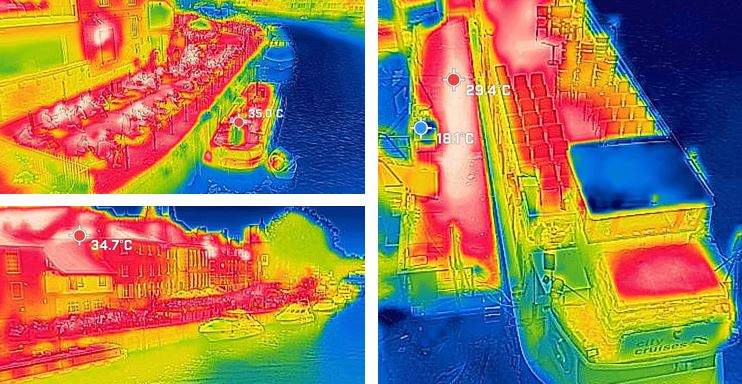 Thermal Imaging Inspection Pictures – York River Ouse
The first of the fun thermal imaging inspection images above are taken from locations on the River Ouse. The first two on the left are taken from Ouse Bridge (one of the bridges featured in our guide to bridges in York) looking towards Kings Snaith and the popular and famous riverside pub in York of the Kings Arms.
The second image on the right is taken of a York City Cruises boat, moored up near Lendal Bridge. In both of these images, in what is called the 'Rainbow' palette on the Flir thermal imaging inspection camera, red is the hotter areas and blue is the colder areas. These images were taken in June 2023.
There are a few interesting observations about these particular thermal imaging inspection camera images. Firstly, notice how you can see the heat of the people and pavement areas contrasts with the cold of the River Ouse water. Secondly, you can see how the roofs of the buildings (in direct sunlight) are hotter than the sides.
Finally, you can see how (on the bottom left in particular) how there is a reflection off the water. This is something to be aware of when using thermal imaging inspection cameras as, because it is based on detecting infrared light (often abbreviated to IR), light can reflect off surfaces you normally get reflections off, including water!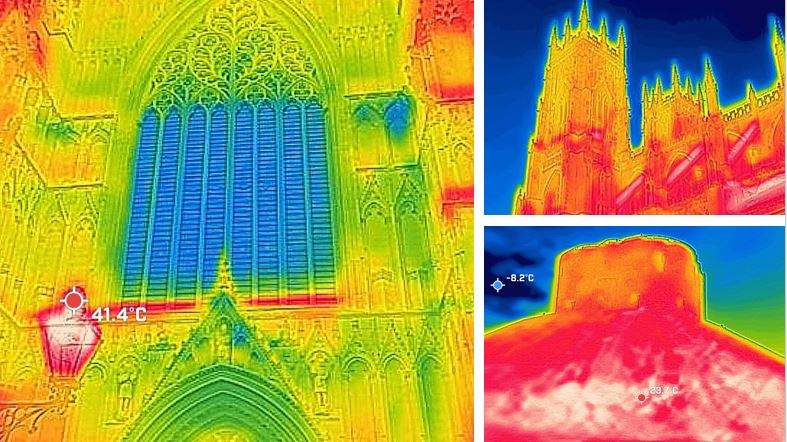 Thermal Image Pictures – York Historical Buildings
The next set of thermal images are from two very well known, historical buildings in York – that is, York Minster (left hand side and top right) and Clifford's Tower (bottom right).
The distinctive outline of both buildings is clear, helped by what Flir call their 'FLIR MSX technology', this stands for Multi-Spectral Dynamic Imaging which combines thermal imaging inspection camera images with regular photos for increased clarity, especially in highlighting details. See more on the Flir MSX explanation page.
Again, on these photos you can see clear distinctions between relatively warmer and colder areas. The one on the left especially shows how the street light is hot but the window and stone framing on the stained glass is colder, this will (in part) be because of it being cooler inside the building. If you go in York minster on a hot day, it can still be refreshingly cool inside!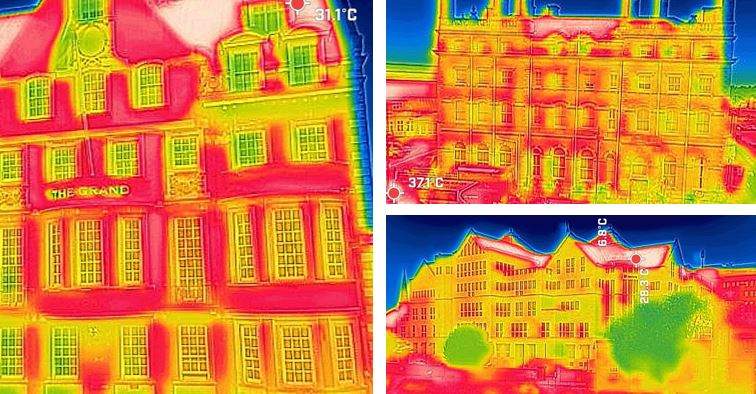 Thermal Imaging in York – Buildings
Our next set of images show some familiar buildings in York city centre, starting on the left with the Cedar Court Grand Hotel. Then on the top right is the Principal Hotel in York and the bottom right is the familiar Aviva building on Wellington Row, near to Lendal Bridge.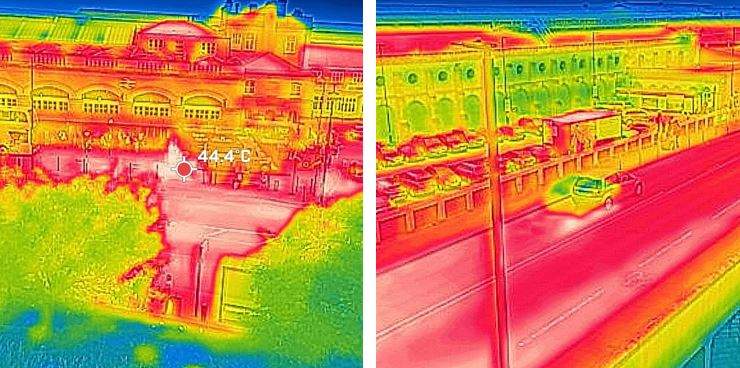 Thermal Images of York Station
The next set of images taken with one of our thermal imaging inspection cameras shown above are of York Station, taken from the bar walls. The left shows the front of York Station (notice how hot the roads are again) and another showing the Queens Street Bridge and York Station Car Park on the right hand side.
Here is a video taken at the location with our thermal imaging inspection camera:
We mentioned about the roads showing as hot and there are a few factors in particular that can contribute to this, these include:
They are in direct sunlight with minimal shade
They are dark tarmac, which absorbs heat from the sun
The heat generated from tyres friction on the roads
Interestingly, as a fun addition, here is a thermal imaging inspection camera photo of a train on the East Coast Main Line (notice how hot the area around the train railway tracks are!):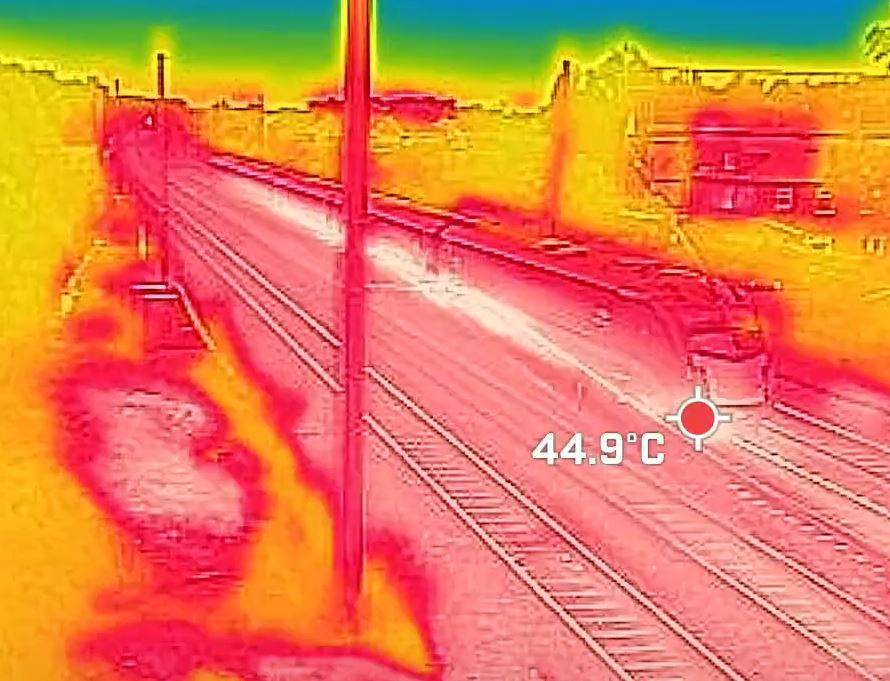 Thermal Images of York – Roads Junction
The final images below are different images of a familiar, and busy, junction taken from the bar walls in York at the junction of Station Rise and Rougier Street, near to Lendal bridge.
The thermal imaging inspection camera image on the right shows again how the tops of roofs and the roads in direct sunlight are hotter. And interestingly, the right hand image has a hot square corresponding with a patch of unplanted soil bed which is noticeably hotter than the surrounding grass areas adjoining it.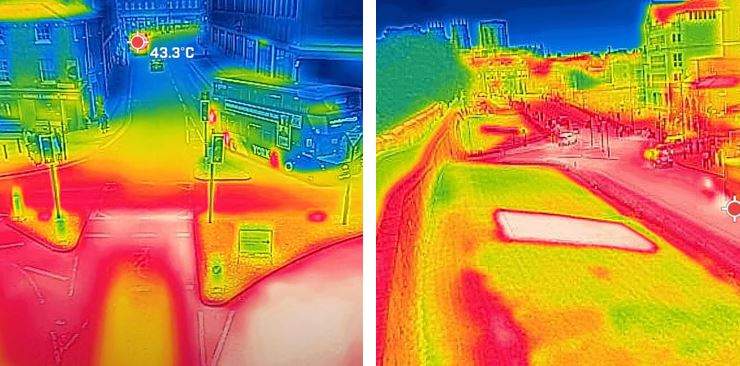 It is interesting to see on the left-hand image how cooler the roads and buildings are in Rougier Street as a result of the shade from the surrounding tall buildings, in comparison to those in more exposed areas.
Water Leak Detection Thermal Imaging – Areas We Serve
Here are the locations we operate as a water leak detection (including thermal imaging) company:
We also provide help with damp and mould locally in these areas, including mould in houses or businesses, large or small.

We are experts in dealing with thermal imaging in York and the surrounding area, so if you have a water leak, please contact our friendly leak finders to arrange for help and guidance. We use advanced leak detection methods to find leaks in homes and businesses across the local region.
Rainbow Restoration – York & Yorkshire Coast are experts in Leak Detection in York, including Commercial Leak Detection and also Water Damage Restoration, so if you would like help finding a water leak or getting your property back to normal after a water damage or flooding, get in touch with our friendly local team who will be happy to help you with this.
Thermal Imaging Inspection Cameras – Associated Articles:
A few other articles you might be interested in reading too:
Thermal Imaging Inspection Cameras – FAQs
What is thermal imaging inspection?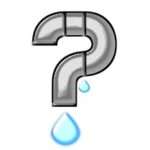 Thermal Imaging Inspections utilise infrared cameras to detect heat variances in buildings, materials and equipment for a variety of purposes. They can be used in property thermography, advanced water leak detection and a variety of other purposes. These highly effective and accurate devices are sensitive to temperature variances and pick up what cannot be seen with the human eye.
Can thermal imaging inspections see through things?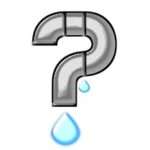 No, thermal imaging cameras are not like x-ray cameras, you cannot see through things with them. However, they can give an indication of things within or underneath things by picking up subtle thermal differences in the temperature of nearby surfaces. For example, they can be used in thermal imaging leak detection, to locate underground hot water pipes (like those in underfloor heating).
Who does thermal imaging leak detection in York?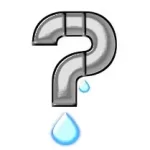 Rainbow Restoration – York & Yorkshire Coast are a local company based in York, they carry out advanced leak detection in the area helping both homes and business find water leaks in their property. Their staff are highly trained local leak detection experts in York and, with their skills and experience, can help to maximise the chances of locating your leak efficiently and effectively.