As the UK's leading Damage Management Company, we know a lot about Christmas Fire safety and, as part of our 25 Festive Restoration Tips, in there were 5 fire safety tips to help make sure you are not a victim and need fire damage services over the winter months, which is a busy time for fire and smoke damage companies.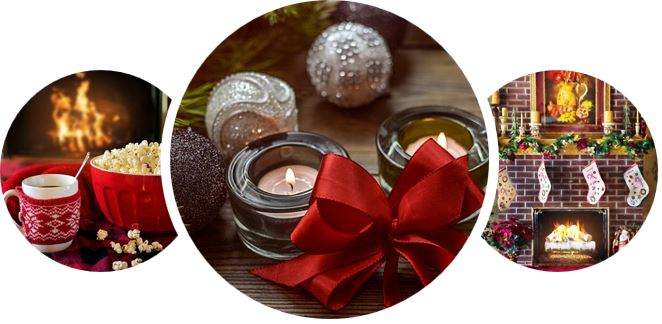 5 ESSENTIAL CHRISTMAS FIRE SAFETY TIPS
We have a lot of experience of unwanted Christmas fires in homes and businesses in the UK and are happy to share our advice and practical tips for you to follow. Stay safer with these helpful tips.
If you are interested in our other parts of our Christmas safety tips series, see: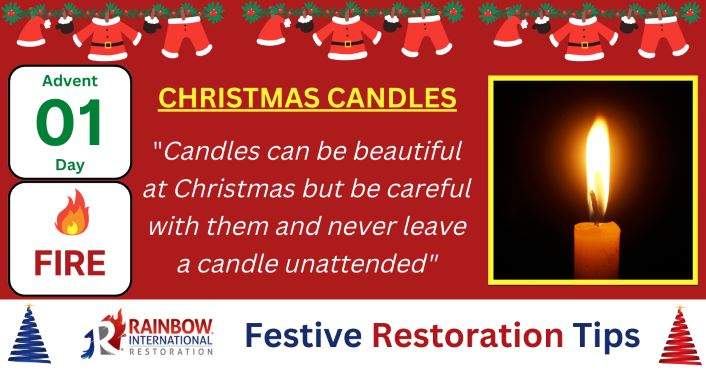 Christmas Fire Safety Tip 1 – Candle Fires
One of the most important Christmas fire safety tips is to be careful with candles as, at this festive period, people like to light advent candles, decorative candles or Christmas scented candles (or incense burners). However, unfortunately they are a leading cause of house fires in the UK.
Here are 10 important tips relating to Christmas candles:
Never leave a candle unattended especially when you are out of the house
If you have candles, place them on a heatproof or heat resistant surface
Do not put candles on unstable surfaces where they could topple over
Do not leave candles close to items that can catch fire quickly (more on that later!)
Don't place candles on shelves or with items above them as the heat can be intense
Be especially careful if you have pets or children as they can knock them over
Don't let candles burn all the way down to the bottom
Don't have too many candles close to each other
Do not move candles or put them on something which is moving
Take care extinguishing candles and make sure they are out!
On top of these tips, as may people always say, make sure you have smoke alarms in your house, and importantly, make sure the batteries are in and working – test smoke alarms regularly. We discuss candles in our article about air quality monitoring.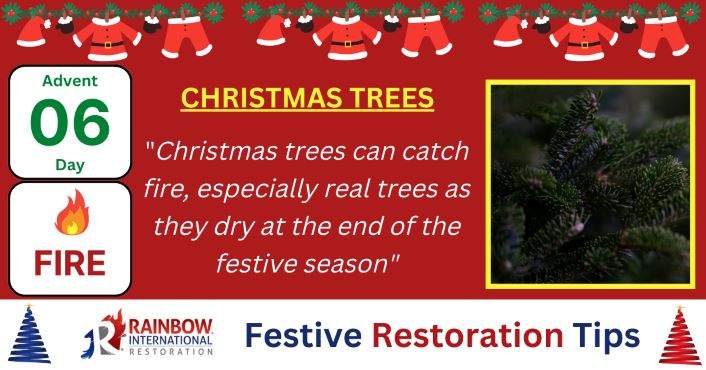 Christmas Fire Safety Tip 2 – Christmas Tree Fires
Our next Christmas fire safety tip relates to something we all love seeing in the festive period, Christmas trees. In particular, this tip relates to real Christmas trees. Something that we sadly see too often is Christmas tree fires.
Christmas trees can be particular prone to fire risks, especially as they dry out after being in warm UK homes over the festive period. This can be seen in this excellent and dramatic YouTube video from the National Fire Protection Association (NFPA for US and Canada):
As you can see in the video, the dry un-watered Christmas tree catches fire very rapidly and the room is engulfed in flames in just a few seconds. In under a minute the room is almost unrecognisable. In comparison, the watered tree catches fire much slower, but still remains a potential risk.
Combining Christmas fire safety tip 1 and 2 – NEVER BURN OR PLACE CANDLES NEAR A CHRISTMAS TREE AS THEY CAN CATCH FIRE! We discuss this in our guide to fire triangles.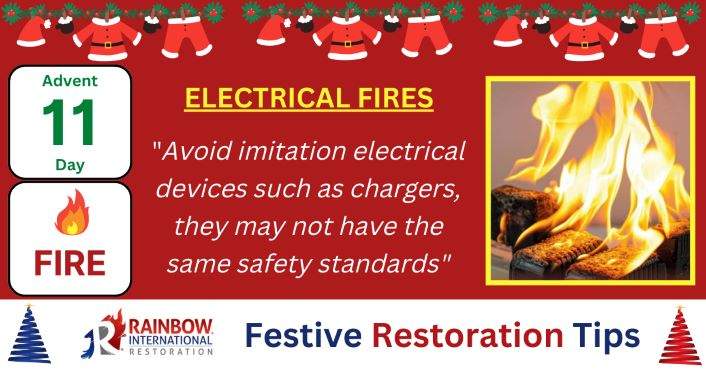 Christmas Fire Safety Tip 3 – Electrical Fire Safety
In our recent article about Fire Classifications, one of the ones on the list is electrical fires and taking care with electrical fires is a great Christmas fire safety tip. Clearly, many UK homes and businesses will often have a lot of electrical items, especially when people are getting additional ones as gifts for Christmas.
Clearly, there are a lot of things that we could cover as Christmas fire safety tips but, in general many of the tips we discussed with candles can also be adapted for electrical fire safety. There are clearly obvious things like electric heaters and electric fires that can cause a risk but also, things such as phone chargers and other electrical devices have the potential to catch fire, especially if you leave them on for too long accidentally.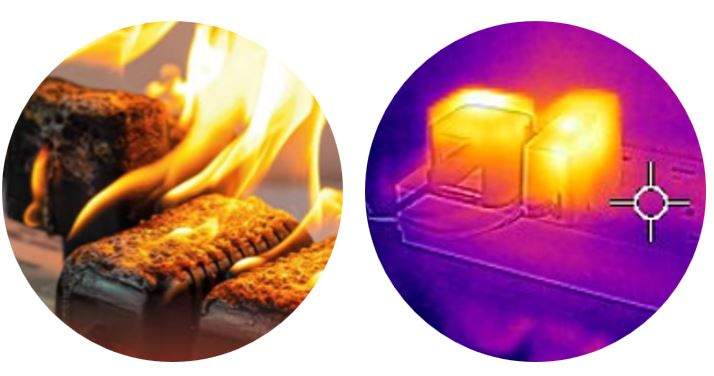 A good bit of advice is to buy from recognised, reputable retailers, manufacturers and suppliers. And as you might expect, combined with that, be wary with cheap brands, including imitation 'knock-off', poorer quality devices.
Also, watch out for things that are too cheap to be true. If you think 'how can they possibly make that so cheap?', there may be a reason! Plus make sure they have the appropriate safety standards. And read the manual! – in fact they may well include safety tips.
Interestingly, when we are doing water leak detection in people's homes and businesses, one of the things we do is thermal imaging leak detection and when you are looking around a room, you will often see electrical items 'glowing' on the infrared camera, highlighting exactly how much heat they are actually emitting.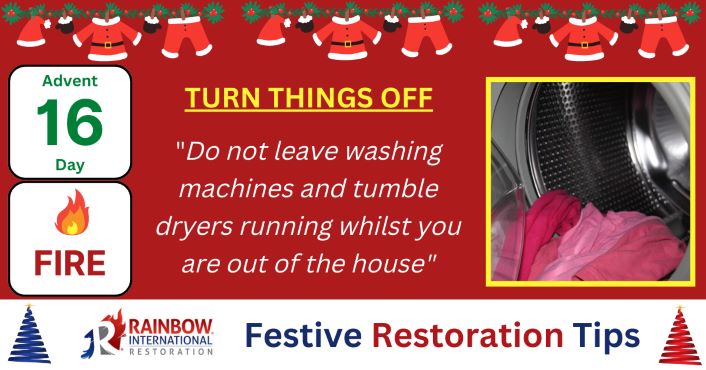 Christmas Fire Safety Tip 4 – Electrical Appliance Safety
Electrical appliance safety is something that is relevant all year round in the UK, but especially so at Christmas, very much following on from tip 3 above. However, this Christmas fire safety tip is about how you should not leave these appliances on when you are not in the house, including laundry room white goods.
We've mentioned previously in articles on our leak detection blog, that things like washing machines leaking and dishwashers can be sources of water leaks but they, alongside tumble dryers and ovens, can be causes of house fires either from water coming into contact with electrics (never good) or by catching fire.
In fact sometimes such products are recalled due to faults which could be a fire risk (watch out for that!). As we mentioned in our previous tip, another thing that shows heat when doing thermal imaging surveys is such appliances, as this picture of a tumble dryer (on the left) shows: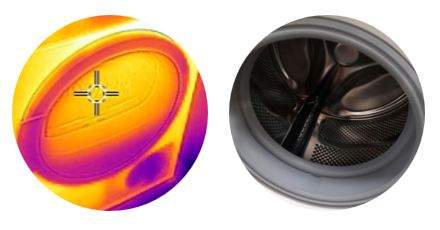 Such electrical appliances effectively have heaters in them to help dry clothes and, although they are not necessarily unsafe, as we know from using them regularly (unless there is a safety recall) but there are risks and it's bests not to leave them running when you are not in the house – we have seen a lot of washing machine fires, tumble dryer fires and cooker fires.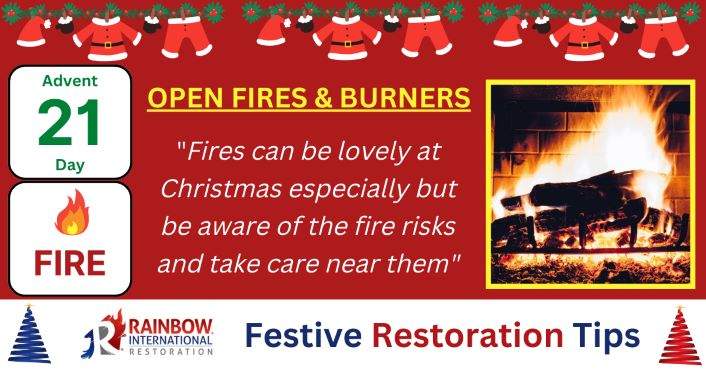 Christmas Fire Safety Tip 5 – Fires and Log Burners
This final Christmas fire safety tip is perhaps obvious. Nonetheless, at Christmas and during winter months the risk is more prevalent. People love a roaring open fireplace or log burner with a Yule Log on it whilst at home at Christmas watching Home Alone or White Christmas!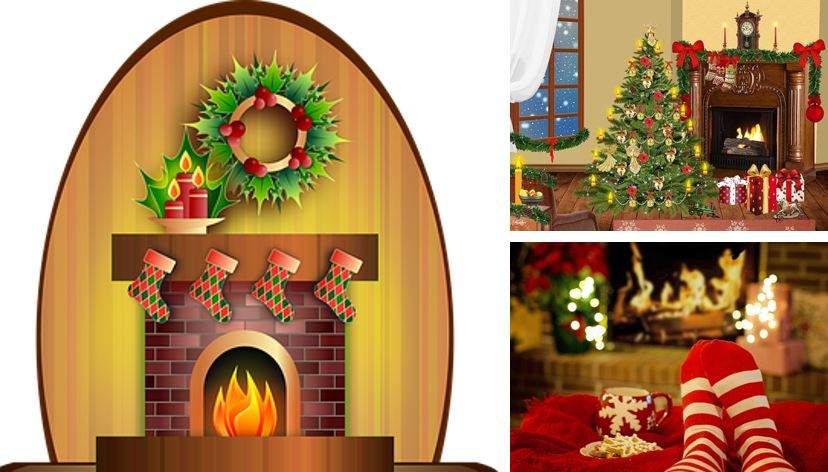 People who have such fires are hopefully aware of the risks but, combined with some of the things we have said earlier (like leaving things unattended or watching for things catching fire), this is especially important at Christmas as people like putting decorations or Christmas trees (remember tip 2!) near to fires and that carries fire risks.
In fact those picture shown above highlight that, with Christmas stockings, Chrismas presents and Christmas decorations near the fires – avoid that to help keep safe. Plus, having a fire guard can help protect the spread of sparks from open fires, you can actually get Christmas Fire Guards – but if you are going to get one, make sure it is safe and fit for purpose.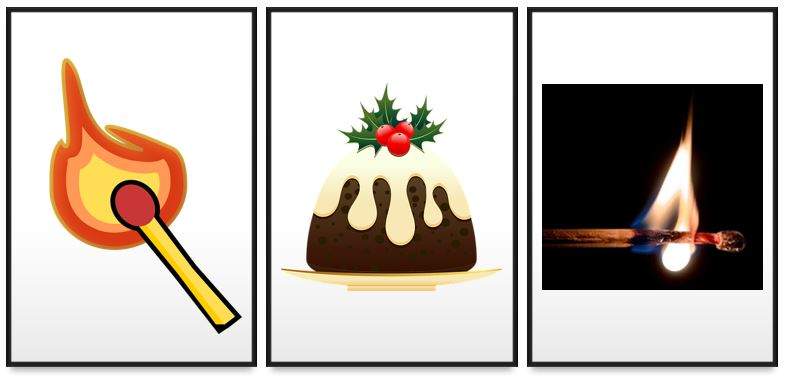 One last bonus Christmas fire safety tip – if you are planning to set your Christmas pudding on fire, do be very careful and remember that they can be cause fires. Not a nice way to end your Christmas meal with injury to you or your family or from causing fire damage to your property. We don't want to sound like Scrooge at Christmas but be careful and have a safe Christmas and New Year.
Other Articles Related to Christmas Fire Safety
We hope you found our Christmas fire safety guide useful, here are some other related blog posts and articles (including some good tips) on similar winter themed topics:

At Rainbow Restoration – York & Yorkshire Coast we are experts in Fire and Flood restoration and in Leak Detection and also Water Damage Restoration, so if you need help getting your properties back to normal after an incident, get in touch with our friendly local team who will be happy to help you with this. We are based in York and help find water leaks in York.
You can see our other Christmas tips on our twitter page and on our facebook page too.
What are Christmas fire safety tips?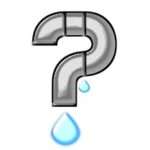 Our 5 Christmas fire safety tips are based upon the types of risks that are more common in winter months, but especially in December at Christmas when risks can be heightened. These tips are collated from our experience of fire damage services we deliver across the UK – sadly, we have seen many house fires from these tips not being followed so hopefully they'll help keep you safe at Christmas!
Can Christmas trees go on fire?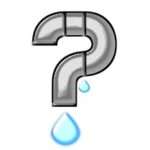 Yes, definitely, Christmas trees can catch on fire and this is especially the case with real Christmas trees towards the end of Christmas as they dry out. If a Christmas tree is exposed to an ignition source (such as from a Christmas candle or open fire spark) they can ignite quickly causing major fire damage which is definitely not nice to deal with over the Christmas period, let alone any other time.