We are the UK's leading Damage Management Company and have extensive knowledge and experience regarding Christmas water damage safety and, in our 25 Festive Restoration Tips, in there were 5 water damage safety tips to help make sure you are not affected and require water damage services over the winter months, a time of year when lots of water damage occurs.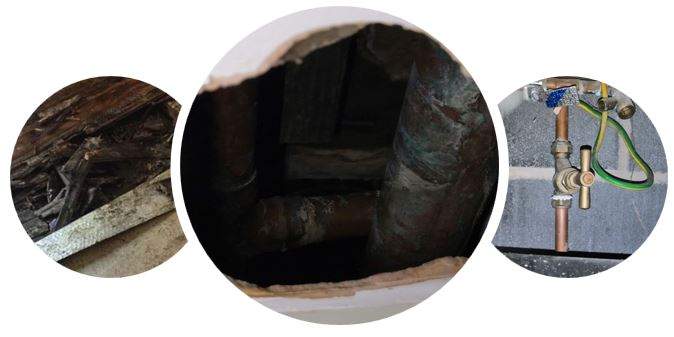 5 USEFUL CHRISTMAS WATER DAMAGE TIPS
In the winter months, and around Christmas when the weather is colder, there are a number of things that can add to the risk of you unfortunately suffering from Christmas water damage, but we want to help you avoid this. To help with preventing this and to help you stay safer we have collated these helpful tips.
If you are interested in our other parts of our Christmas safety tips series, see: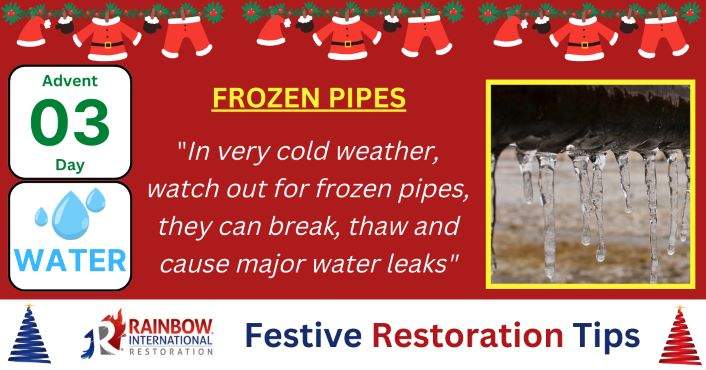 Christmas Water Damage Safety Tip 1 – Frozen Pipes
In the winter months before, during and after Christmas (especially December, January and February) we generally see the coldest temperatures in the UK and this is synonymous with plumbing leaks in properties in the UK. We get a lot of demand for our water leak detection services at these times.
When we get particularly cold temperatures or events like 'The Beast from the East' bringing in sub-zero temperatures, it can cause water to freeze in pipes. As you likely know, when water freezes, it expands and because it is confined within pipework (copper or plastic), this puts pressure on the pipes causing cracks, especially at weak points in the system. Then when the water defrosts, it can cause major leaks in properties.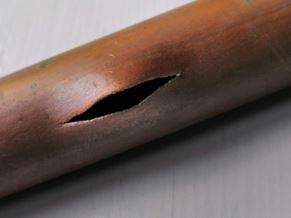 But what can you do to help prevent this? Well here are a few things can help:
Be aware of this and look for the signs of frozen pipes – this can include a slowing or stopping of the flow to taps or other fittings in your property.
Similarly, be on the lookout for the signs of water damage, especially after a thaw – for example keep an eagle-eye out for your boiler losing pressure, things like ceiling leaks and new damp on walls.
Try not to let temperatures get too cold in your property – and, if you are away over cold periods, consider leaving your central heating on (even at a lower temperature)
If you think you have a frozen pipe, consider turning your stop tap off (if you can) – we discuss this more later but, if you know or strongly suspect a leak, and it is safe to do so, turning the supply off may prevent water leaking after the thaw.
Pay particular attention to external pipes (or pipes in cold places) – as they are going to be colder and at higher risk of freezing and then leaking. Thinks like outside / external garden taps for hosepipes for example.
There are other things, but hopefully that gives you a few additional Christmas water damage tips. Now, lets move on to our next useful tip to help you. It follows on from the previous one.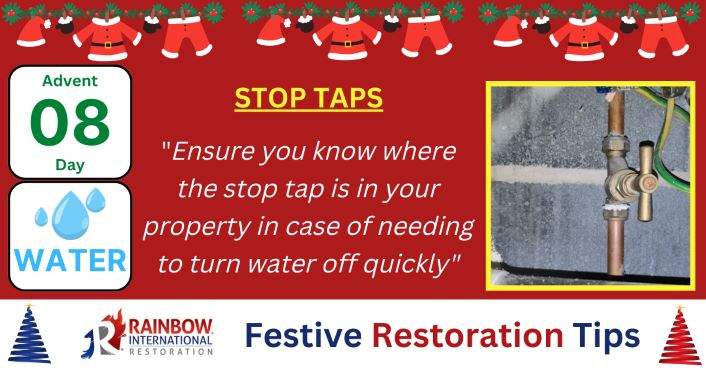 Christmas Water Damage Safety Tip 2 – Stop Taps
Our next Christmas water damage tip expands on something we just covered, knowing where the stop tap is in your property. You should bear in mind that you may have more than one, plus this can cover internal stop taps or external stop taps. Plus, many plumbed in fittings in your property will have isolation valves in them too!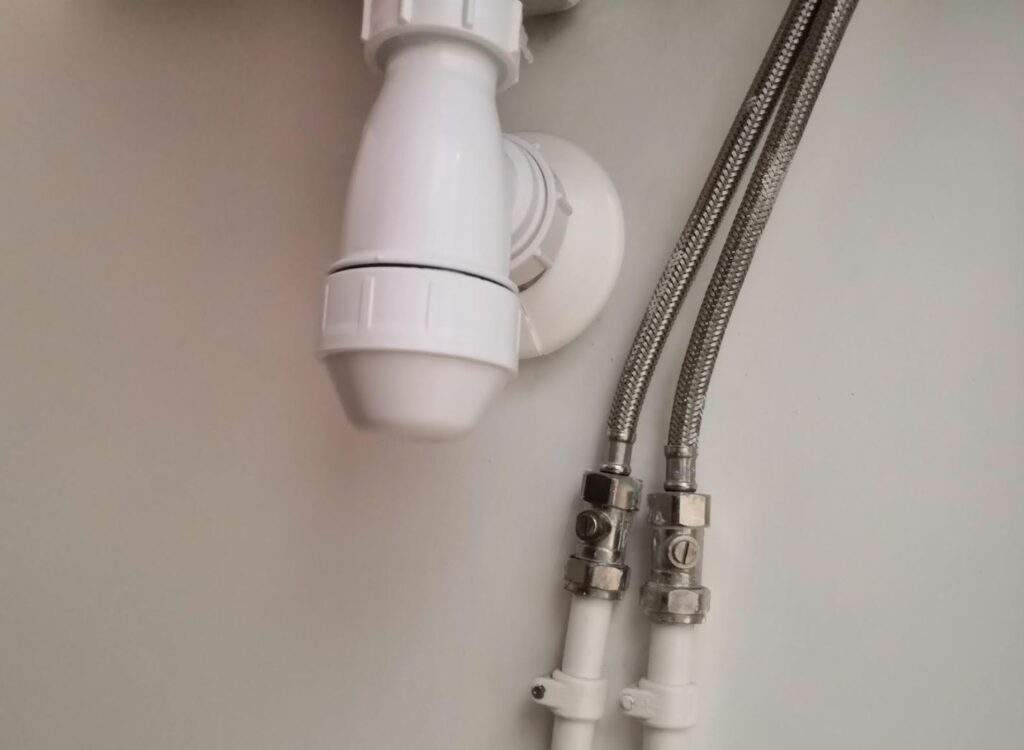 You can see on the picture above, two isolation valves feeing a wall-mounted sink, one for the hot tap and the other for the cold water tap feed. As you can see, the lines on the screws mounted on them are aligned with the flow of the pipe. To turn them off, they will need to be at a 90 degree angle to the flow.
Knowing things like this, and where your stop tap is can safe a lot of Christmas water damage if you are unfortunate enough to have a leak in your home over winter you will be able to stop the water flowing in an emergency. So if you don't know where your stop tap is, find out ASAP.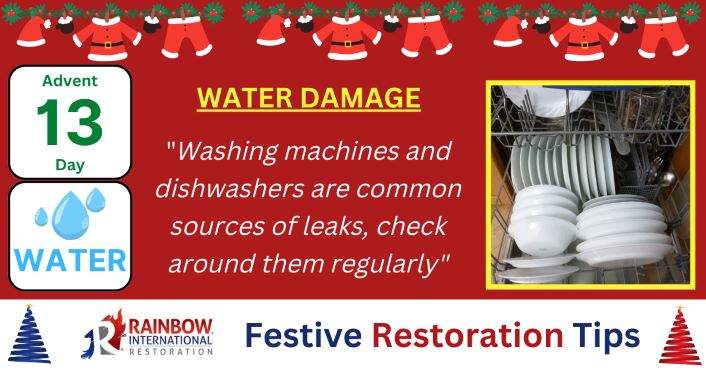 Christmas Water Damage Safety Tip 3 – Appliance Leaks
Our next Christmas water damage safety tip covers two appliances you will likely have in your home that are two of the most common sources of water leaks, washing machine leaks and dishwashers in kitchens and utility rooms.
This can include:
Water leaks in the pipes connecting to the devices
Water leaks in the connections / fittings to them
Water leaks in the waste water pipes from them
Water leaks from the rubber seals to the devices
Water leaks from the devices themselves
We cover this in more detail in our article about having a Leak Under Sink in Kitchen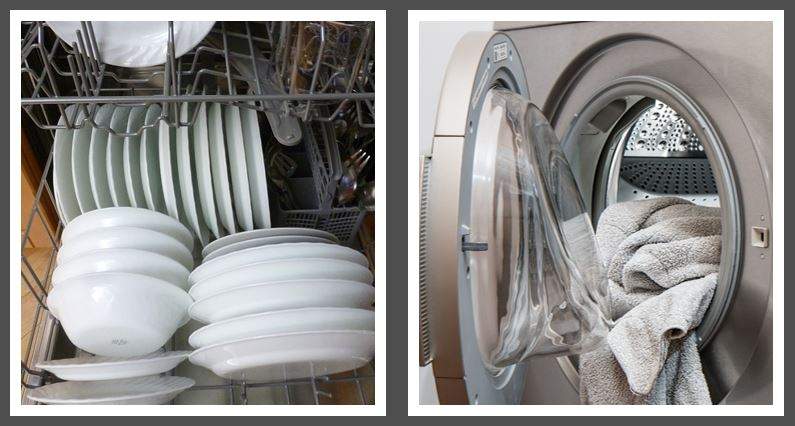 So again – what can you do about this? Well, the single best piece of advice is to make sure you check around these fittings regularly, looking for signs of water damage. Often washing machine or dishwasher leaks can be slow, it's not always the case that water comes gushing out so be aware of unusual pools of water or signs of damp etc, especially on the floor.
The other thing you can do is make sure that they are fitted properly in the first place and that all connections are sound. We get a lot of people contacting us for help with water damage, just after a new appliance has been fitted and this can be because it has not been done correctly.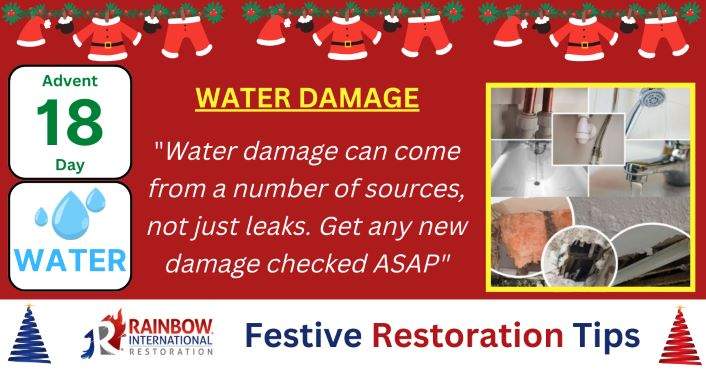 Christmas Water Damage Safety Tip 4 – Act Fast
Very much following on from our previous Christmas water damage tip is a double-header tip for you which covers two related things. They are:
Be aware of the places water damage is more likely to occur and;
Whenever you spot damage, act fast to prevent further damage
As we highlighted in the previous tip, there are higher risk places that water leaks are more likely to occur in and, as you might expect, this correlates with where plumbing and plumbed-in fittings exist in your house. So bathrooms, ensuites, utility rooms and kitchens are rooms in which water leaks can often occur. So therefore, be extra vigilant in those rooms especially.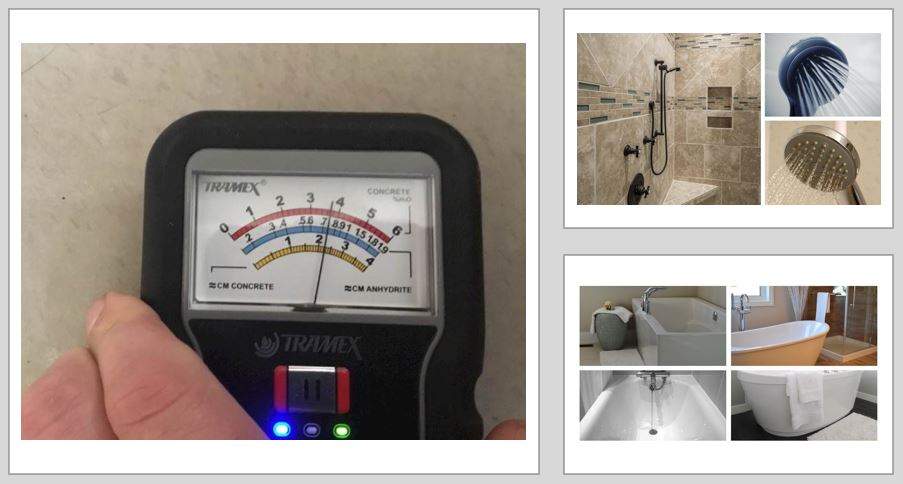 The other thing, related to that is to make sure you check rooms near to those. For example, in our article about when you have a bath leaking through ceilings, we mentioned how it may not be seen in that room first. You may spot something on the ceiling in the room below, which could be a lounge / living room, hallway or kitchen etc. Related to this, see our article about possible asbestos in artex ceilings.
Another great Christmas water damage safety tip, on to the final one now!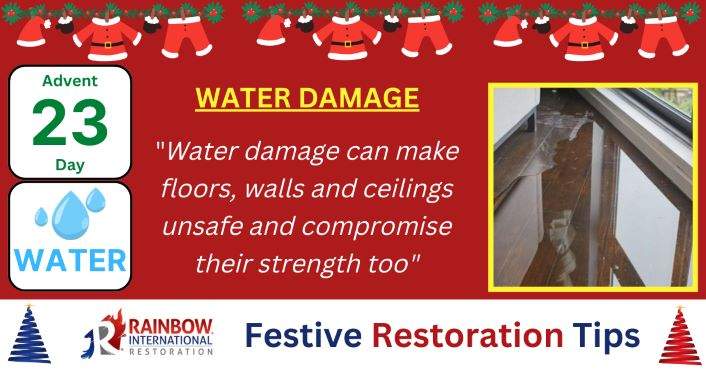 Christmas Water Damage Safety Tip 5 – Risks
Our final Christmas water damage tip is to make sure that you are aware of the potential risks of water damage, of which there can be many to consider. This can include things such as:
Risk of falling debris, especially from ceiling leaks
Weakened flooring when you have a leak in floors
Similarly, higher risk of slipping or falling
Mould in the house from the damp – like mould on walls
A leak could leave you without heating in the cold
Hidden damage that may require pressure drying
A leak could increase humidity and condensation
Hygiene issues if sewage clean up is needed
Risk of electrical safety issues if water contacts them
On that last one, we mention electrical fires in our article about fire classifications and regarding humidity, we have a useful guide with tips on how to reduce humidity.
We can track the mitigation measures taken for water damage with our bespoke remote monitoring systems.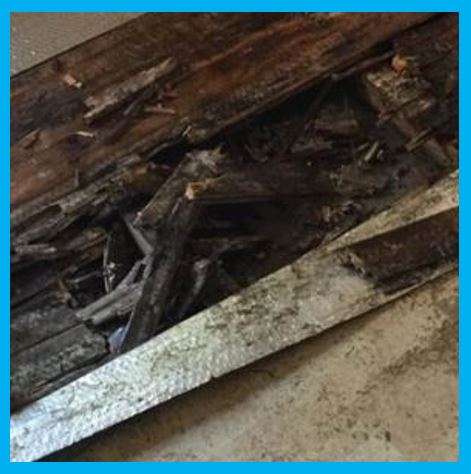 Clearly the risks of Christmas water damage, or any water damage for that matter are many and will depend on a number of factors that can contribute to this. For example, the type of property, the size of the water leak, the location of the water leak, how long the water leak (or water damage) has been there for, the type of water that is leaking and a number of other factors. We discuss water damage in our article explaining fluorescein leak detection dye.
Thankfully, we are experienced in all these areas so if you have water damage in York our around contact our local and friendly team for help and advice.
Other Articles Related to Christmas Water Damage Safety
We hope you found our Christmas water damage safety guide useful, here are some other related blog posts and articles we have created (including some other good tips) on similar winter themed water damage restoration topics:

At Rainbow Restoration – York & Yorkshire Coast we are experts in Fire and Flood restoration and in Leak Detection and also Water Damage Restoration, so if you need help getting your property back to normal after an incident, get in touch with our friendly local team who will be happy to help you with this. We are based in York and help find water leaks in York.
You can see our other Christmas tips on our twitter page and on our facebook page too.
What are Christmas water damage safety tips?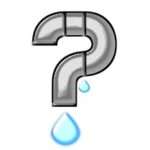 Our 5 Christmas water damage safety tips provide help and advice on issues that can be more common in the winter months in the UK, including Christmas. We have collated a number of beneficial tips to help stop you becoming a victim of water damage at your home and, how to spot things early and, if you do have water damage, what you can do about it. It's a quick read and very useful.
What are the causes of Christmas water damage?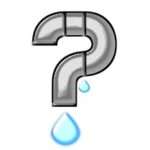 There are a wide variety of things that can cause water damage in your home or business but Christmas water damage has a number of things that are more common, especially because of the colder weather. This can include things like frozen pipe leaks in your property (or outside it), central heating leaks and leaks caused by winter storm damage in the UK. Be aware of these water damage risks.