As a friendly local company who provide a range of Specialist Cleaning Services, including our local Crime Scene Cleaners, we are experienced at dealing with cleaning biohazard materials, including from viruses. As you might expect, with the rise of Covid-19 in recent years, this extends to Covid Cleaning services too.
Even when doing our water leak detection work, we often come across biohazards, for example when someone has a sewage or waste water leak in their property. As you would expect, when doing both these services, we do detailed risk assessments and follow strict health and safety practices for everyone's safety.
We offer Covid cleaning services to both domestic customers and businesses, so if you have had someone at your home or business who has had Covid, and you would like to have a Covid clean to help greatly reduce the risk of infection to others, get in touch with our local team for help.

Covid Cleaning and Sewage
We mentioned above about how we come across sewage leaks. Interestingly on the UK Government Website, they talk about finding traces of Covid-19 and Sewage, on that page they say – "Fragments of the SARS-CoV-2 virus (the virus that causes COVID-19) can be detected in samples of wastewater (untreated sewage)".
Clearly, the areas around where sewage leaks happen can have contact points which can act as areas of reinfection, potentially spreading the virus from one person to another. For example, toilets, door handles, light switches etc. As you would expect, when we carry out Covid cleaning, special attention is given to contact points.
On the topic of toilets, we have a guide on how to unblock toilets best.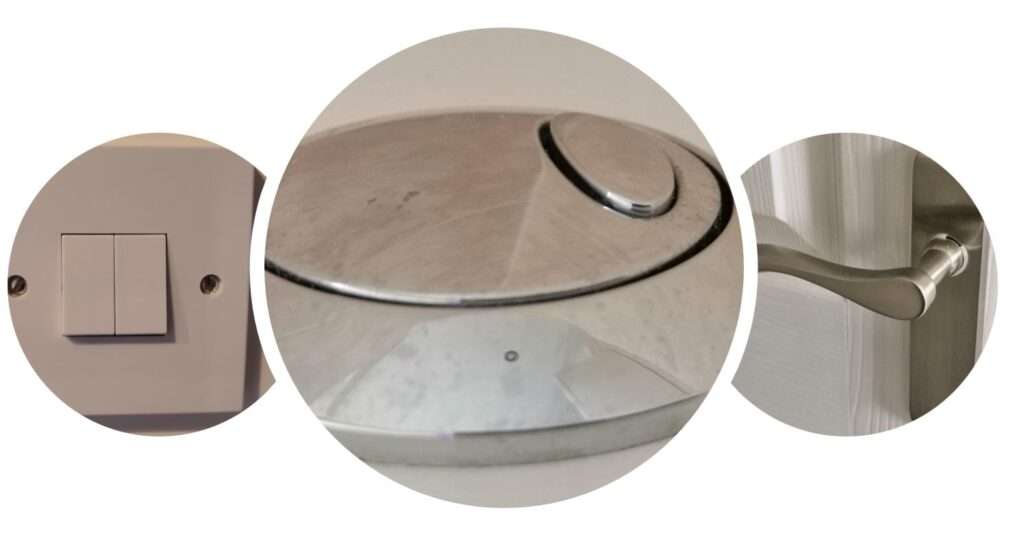 As well as helping to greatly reduce the risks, sewage clean ups also removes the actual sewage waste and remove the unpleasant odour from faeces and urine. Not only do we use specialist antimicrobial products (proven to work for covid cleaning) but also odour control products and equipment. On the subject of such products, you may be interested in our guide to hazard symbols on chemicals.
What is Covid Cleaning?
We have a bespoke process for Covid cleaning and other virus cleaning, following our proven way of working (method statement). We follow careful health and safety practices at all stages and use approved, proven Covid cleaning products, including antimicrobial cleaning solutions, and equipment to apply them.
Ultimately the aim is to greatly reduce or remove the risk of infection in a place (home or workplace) where a known Covid infected person has been in the environment. We take measures to both clean and disinfect both the environment / air as well as the structure and contact points within a building.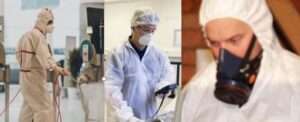 As you would expect we use appropriate PPE (Personal Protective Equipment) to protect our staff and customers. We will work with you to ensure the appropriate measures are taken during and after our Covid cleaning process and let you know when you can return into the place. Plus, at the end of each job we will safely dispose of any potentially affected materials, including the items we use for cleaning and disposable PPE etc.
We utilise a range of PPE, much of which we use to help protect people and reduce risks, including when we are doing work such as mould removal, including mould on walls, and asbestos testing, both of which carry risks too. For more information see our guide – where is asbestos found? or our article about artex.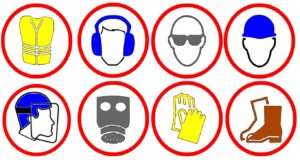 We will also work with you to schedule any Covid cleaning at a time that is best for you and us, working discreetly and safely in the environment we are in. We also work to keep up to date with the latest government guidelines, which as you might expect can change as the coronavirus develops, including new for new strains such as delta, omicron etc. This includes information from the NHS on Covid too, which is available to the public too.
As well as coronavirus cleaning we offer a similar service for places which have had winter cold or flu outbreaks. Again, with the same principles in mind as above, and to reduce the risk of infection to others.
How Much Does Covid Cleaning Cost?
As you might expect, as with other services, the exact cost will mainly depend on the size of the area being cleaned. For example the cost of doing Covid cleaning (or any other of our specialist cleaning services) in a small flat would be different to doing it in, for example, a large office block.
That said, a 'typical' Covid clean will be a few hundred pounds. So if you want a quote for Covid cleaning at your home or business, get in touch with our team and they will help with this and discuss the process. We treat every case as different, refining our process for each situation and working in a way to suit your individual needs.
ATP testing can be used to help support different stages of Covid (or other) virus cleaning as can air scrubbers which help to remove particles from the air down to 0.3 microns.
What Other Cleaning Services do you Offer?
We offer a wide range of other specialist cleaning services to our customers in the York and Yorkshire Coast Area, this includes the following:
External cleaning – including jet washing and graffiti removal
On the topic of safety, see our explanation of a fire triangle in simple terms.
At Rainbow Restoration – York & Yorkshire Coast we are experts in a wide range of services, from Leak Detection, including Commercial Leak Detection, to Water Damage Restoration, so if you need help finding a water leak or getting your property back to normal after a leak or flood, get in touch with our friendly local team who will be happy to help you with this.
Can the coronavirus survive on surfaces?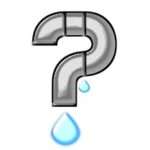 This is something that is being researched constantly and may depend on both the variant of the coronavirus, the climatic conditions and, importantly, the surface it is on as some are more conducive for the virus to survive on. That said, it has been suggested that the coronavirus can survive on surfaces anything from a few hours to a number of days if it is not cleaned. It is advised to clean higher contact surfaces which are more likely to be touched by people. For example – door handles etc.
What is recommended to do to reduce the risk of COVID-19 in the workplace?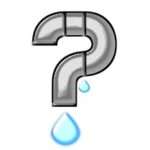 There are several things that can help reduce the risk of covid spreading in the workplace. This can include people who are infected isolating, wearing masks, hand washing regularly etc. All the things advised by the government. However, one other thing that can help is thorough and professional cleaning not only with this focus on higher risk areas (like door handles, touch surfaces etc) but also should used an approved and verified antimicrobial to fight the virus. Plus, professionals have specialist equipment to aid cleaning too.