Having a leak in floors or underground in your property is understandably concerning (possibly even rising up through the floor) for a few reasons really. This includes things such as:
The fact they may have been there for some time undetected
Accordingly, they may have caused water damage over time
You cannot actually see it (unlike less complicated water leaks)
They can be harder to find and need a leak detection professional
Accessing them can, on some occasions be trickier
This is especially the case with a concrete floor water leak
Also with finding a leak under houses
The same goes for underground water leaks
This is where a trace and access service such as ourselves comes in to help. We help to maximise the chances of finding your leak and being as sure as you can that you are opening up the floor or digging (only if it comes to that) in the right place!
Our leak detection specialists in York and Yorkshire Coast are very experienced at finding a water leak in flooring. Not only are they experienced and trained but they also follow a bespoke process using our flexible system, utilising professional leak detection equipment. Importantly, we work hard on delivering first class customer service, helping to explain things from the first phone call all the way to carrying out the work onsite at your property. We are a local water leak detection company, serving the community we live in ourselves.
If you have water coming up through floors in your home or business, we can help.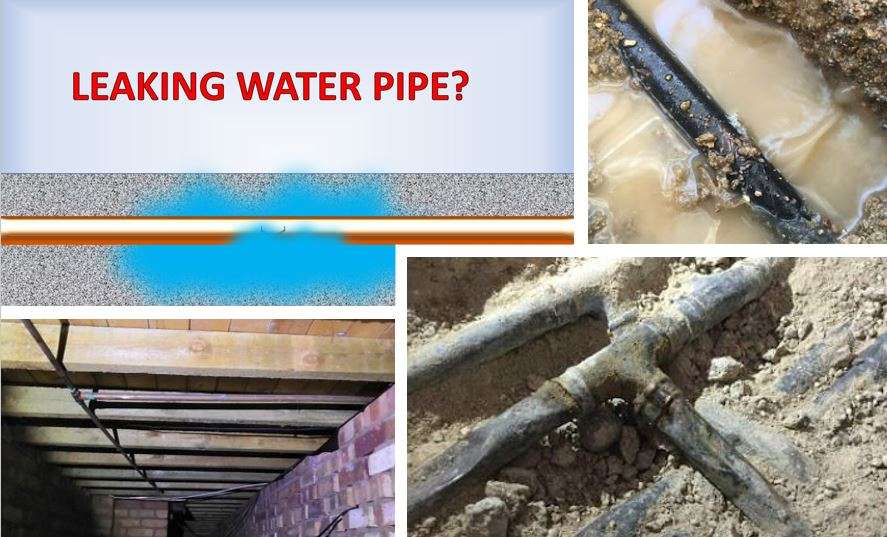 Our Leak Detection Service is tailored to all types of water leak, including a water leak in flooring (or under it). Plus, all our front like technical staff are trained water damage management practitioners too which means not only will they help find your leak but also help to assess the damage caused by the leak to your property.
We offer this service to domestic and business customers, with our commercial leak detection service. We work with a range of businesses, including many of the UKs leading insurance companies, across the region (both small and large). So if your business is affected by a water leak, get in touch.
Leak in Flooring – Types
Saying a 'leak in floor' in your house or business can include many different types of leak, depending on the construction and age of your property, including what your plumbing and heating setup is. We are experienced leak finders in all types of flooring, including;
Leak Under Floorboards – in the floor void in your property
Leak Under Tiles – for example in bathrooms leaks or kitchens
Leak in Concrete Slab – where pipes are embedded in concrete
Leak Under Laminate Floors – possibly causing warping or staining
Underfloor Heating Leaks – from your underground heating pipes
Outdoor Water Leaks – in the supply pipe to your property.
As you will see later in this article, some of these sound simple and straightforward. However, each of these can have different causes (of which there can be many) but we will explore this further later down this page!
Underground Leak Detection
The final thing on that list above about the different types of water leak in floors was outdoor water leaks, on many occasions these are underground water leaks, including in peoples garden.
Interestingly, on underground water leaks, clearly these can be indoors or outdoors. So, we have explained on a separate page about a 'Yorkshire Water Leak' (most of our local customers are in Yorkshire), but more specifically about water leaks outside your property and who is responsible for a water leak. The information on that page will help to explain that. To see areas we serve, check out our page on local water leak detection.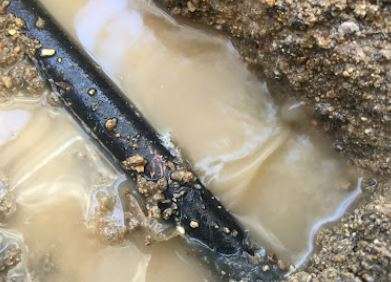 Underground water leaks are often one of the leaks that people might have had at their property for some time without realising, sometimes they might get a high water bill from their water company to alert them of using a lot of water. Our video from the article we wrote about how much water leaks shows that even an apparently 'small' water leak in floors can use a lot of water!…
Whilst on the subject of the signs of a water leak, let's look at that in more detail for having a leak in floors, some of these are common with other types of plumbing leak, including basement water leaks but others are unique to a leak in floors (or underground water leaks)…
Signs of a Leak in Floor
So what are the other signs of a possible leak in flooring that might alert you get help, other than a high water bill from your water company?
A Damp Patch on the Floor – either directly or floor coverings (carpet, laminate etc)
A 'Soft Spot' in the Floor – especially on wooden floors or floorboards
Movement or Cracks in the Floor – especially with tiles or wooden flooring
You Can Hear a Water Leak – not common but it does happen, especially bad leaks
Smell of Damp or Mould – a distinctive 'foisty' smell in your home
Lower than Normal Water Pressure – or sometimes a total loss of water
Your Boiler is Losing Pressure – especially if central heating pipes are in the floor
As we always say, if you have more that one of these signs of a water leak then, generally, the higher the chances of having a leak in flooring in your home. If you spot these things, get in touch with us for help.
We actually have a few separate articles / pages on some of the things above:
We discuss the signs of a leak in floors in our Christmas water leakage article too.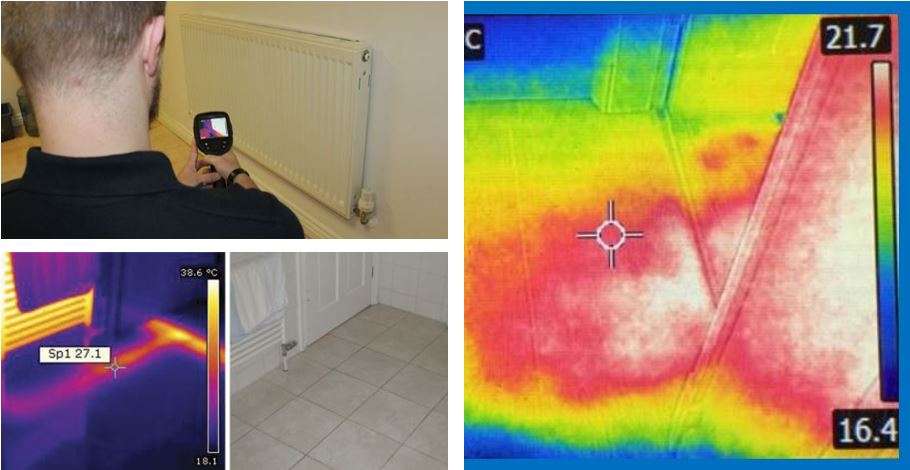 Underground Leak Detectors
So what are the ways we find a water leak in floors in your home or business? Well, as we said earlier, we don't just rely on various water leak detectors (although they do play an important role) our leak detection service is more than that, we follow a tried, tested and trusted process, which we are constantly refining.
People sometimes search online (on Google or Amazon) for 'Water Leak Detector' hoping that there might be something which automatically locates a leak when, in reality, such a thing does not exist (yet anyway!). That said, there are such things as smart leak detectors that alert you to having a leak in floors or elsewhere. However, they only say that you might have a leak, not where it is.
To help increase the chances of finding a water leak, we use a variety of professional leak detection tools and equipment. Here are some of the devices we use to help find a leak in flooring:
Thermal Imaging Leak Detection (as you can see in the pictures above)
Thermal Imaging Inspection – more details on that page too
Moisture and Damp Meters which are generally non-destructive
Moisture Mapping Leak Detection to detect and trace elevated moisture
Tracer Gas Leak Detection to find pinhole leaks in water pipes
Acoustic Listening Leak Detection listening for the slight sound of leaks
Water Pipe Tracing Leak Detection to track where pipes run in floors
Water Flow and Pressure Testing to check for water loss in a system
Salts Analysis Tests to determine the water source / type of water
Other miscellaneous leak detection equipment devices
All of these specialist leak detectors, along with our skills and experience helps to maximise the chances of finding water leaks in floors (including underground leaks) or elsewhere. So if you need leak detection in York or any other of the local leak detection areas we serve, get in touch for help.
Leak in Floor or Rising Damp?
We mentioned earlier that we are local experts in Water
nt, including flood damage but we are also experienced in understanding damp problems in properties, including both rising damp and penetrating damp (which themselves are very different). Why is that important?
Well, unlike some other companies, we are much more than leak detection experts, we have knowledge and experience of a whole range of other services that we offer. This means that we will be on the lookout for other things when searching for your water leak. And very importantly, can tell you sometimes that you do not have a water leak. It may be another problem altogether which you still need to know about.
As you might expect, it is important to understand these different problems because, first of all you don't continue hunting for a leak that is likely not there but also, the solution is very different depending on the cause of the damage caused by the moisture in your floor (or anywhere else in your home), which can even include issues with needing to reduce humidity, and linked to that ventilation and/or condensation problems.
If you have a problem with a water leak, damp or condensation at your property, get in touch with us and we will help and advise you.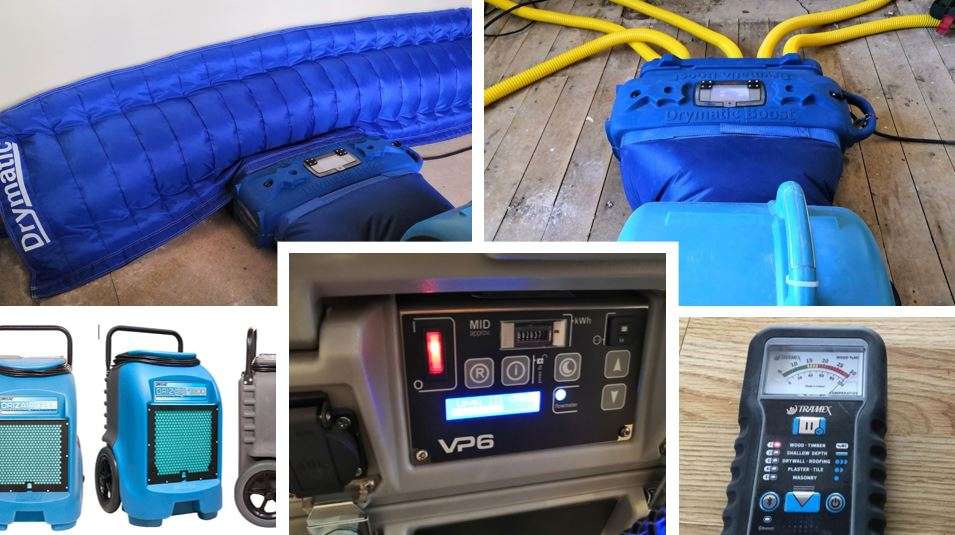 How to Dry a Leak in Floor?
After you have had a leak in flooring in your property, the natural next question is how to dry it to help restore your property to pre-incident conditions before you had the leak.
Clearly this will depend on:
The type of water leak you have
The size of water leak (amount of water)
How long it has been going undetected
The structure and age of your property
The materials affected (buildings and contents)
All things combined, the extent of damage
Obviously this is also especially the case for the area in the floor affected by the water damage from the leak in floor. Even with apparently similar floors, different techniques are needed. For example, a 'concrete floor leak' could be a solid floor or an insulated floor, or even a block and beam floor. Thankfully, we have a range of specialist, industrial drying equipment, including pressure drying, to cope with any floor type in the best way.
Our Floor Drying Equipment Includes:
Industrial Dehumidifiers – both refrigerant and desiccant systems
Industrial Heaters – including target / injection drying heaters
Air Movers & Industrial Fans – a range to suit various needs
Pressure Drying Systems – designed to dry voids in floors and walls etc
Other Drying Equipment – a variety of other equipment to support the above
As well as the above equipment, and our leak detection equipment, we also have a range of highly sensitive moisture meters which can detect moisture (including variations) in a range of materials, including floors. They are great leak detectors and allow us to not only measure the water damage but also the progress of drying / stabilisation over time. It also makes sure that we dry the property to the normal conditions it should be and not too dry.
All our technicians are trained and qualified members of the BDMA (British Damage Management Association) and are experienced in a number of damage management areas, not just leak detection and water damage.
We also specialise in Fire Damage, Asbestos Testing (important for some floors!) and offer a range of specialist cleaning, including crime & trauma scene cleaning.
We are experts in dealing with many types of water damage for people in the York and Yorkshire Coast area, including if you have a washing machine leak in York. So if you have a leak in floors in your home or business, contact our friendly team to arrange for help and guidance. We also deal with water leaks in Yorkshire homes and businesses. Here are the services we offer locally.
At Rainbow Restoration – York & Yorkshire Coast we are experts in Leak Detection and Water Damage Restoration, so if you need help finding a water leak or getting your property back to normal after a leak or flood, get in touch with our friendly local team who will be happy to help you with this.
What to do if water is seeping through the floor?
If water is unexpectedly seeping up through the floor, contact a water damage management company asap to identify if you have a water leak, damp problem or another issue caused by structural damage. Act quickly to avoid damage to your property and help keep your property safe too.
Can water come up through floor?
Yes, depending on the material on your floor (and assuming there isn't something like a damp proof membrane – DPM) to stop the water coming up, many materials can let moisture through. This includes concrete floors, wooden floors or even tiled floors.
How long does it take for water to leak through the floor?
This will depend on the amount of water (for example from a water leak) and other factors such as the pressure of the water leak and the type of flooring the water is coming up through as some materials are more porous than others.
How do you find a leak under a tile?
Specialist leak detection equipment can detect leaks under tiles, even in non-destructive ways. This can include – thermal imaging leak detection, moisture / damp meters, acoustic listening (sensitive equipment to her the sound of the leak) and pipe detectors. All of this can be done without lifting or damaging the tiles.