Water Damage Restoration
Not only are we Water Leak Detection experts, we're experienced Water Damage professionals. All our front-line staff are qualified water damage practitioners who are used to dealing with all aspects of restoration and repair projects, small or large. So if you've had a water leak, damp, mould or have been flooded, get in touch. We offer this service across the region to both domestic and commercial customers.

Our team understand the disruption and upset that a water leak or flood can cause to you and your property. We will help you through this difficult time to help ensure your property is back to normal after water damage. We offer property damage surveys, moisture mapping, water leak detection, help with mould in your house, mould surveys, mould removal and damp & damp remediation. We also offer Fire Damage and Smoke Damage services.
If you have water damage at your property, or think you might have, we can help. Contact our friendly local team for help today, we understand how to repair water damage in both domestic and commercial situations.

See our interactive guide to our:
Our Water Damage Restoration Services
Dealing with the damage caused by water leaks at domestic and commercial properties.
We are experienced in helping to restore properties after localised flooding.
Helping people with damp problems, including rising damp and penetrating damp.
We offer dam and mould surveys to help find the cause and mould removal services also.
Excessive condensation on windows and walls can cause damage to properties.
A range of professional drying services that can help properties after water damage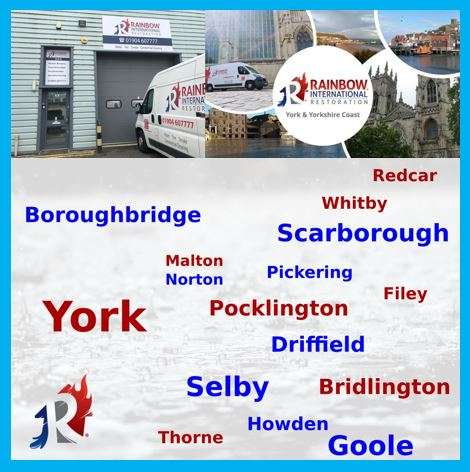 Local Water Damage Experts
Water Damage From the York and Yorkshire Coast Region
We have been providing water and flood damage restoration and repair services across the Yorkshire and Teesside region for over 20 years and are based in the area.
We have staff in different areas of the region, so if you have had a water leak at your property after a leak or even a flood, get in touch today for help.
Our friendly team will work with both domestic and commercial customers, small or large. Contact us today.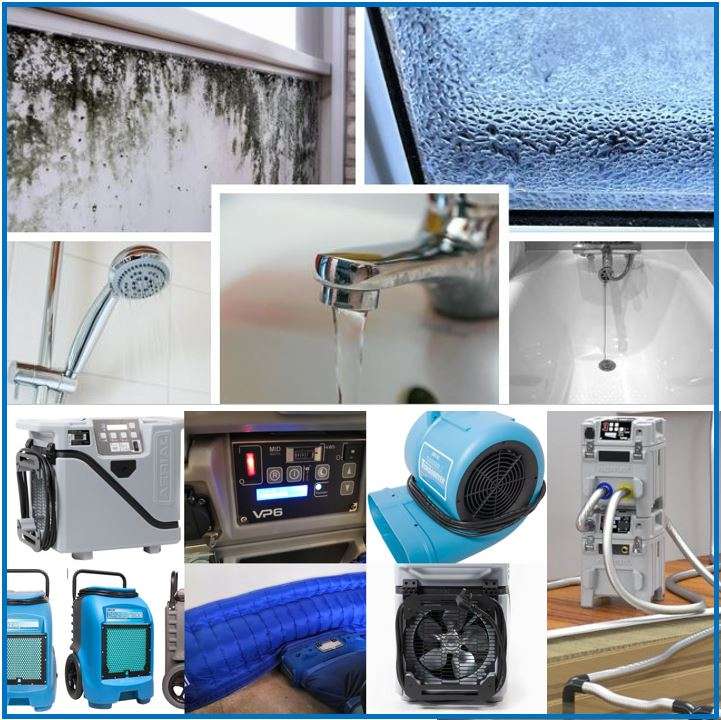 Because we offer a range of services, we provide more than just water leak detection services, we are able to help with much more. So if you have suffered damage to your property after a water leak, we can help get it back to normal after. We have a full suite of professional drying equipment to help with restoring your property as effectively and efficiently as we possibly can. Alongside this is supporting equipment, such as air scrubbers.
On the subject of how to repair water damage in properties, we have a fantastic guide to Christmas water damage safety, which includes a number of things that are especially important at that time of year, not least because of the winter weather and especially cold temperatures in the UK, especially York and Yorkshire.
It can be a difficult time after a water leak or flooding but our team are here to help you out. You are in experienced and safe hands when dealing with our friendly team. Contact us today to discuss your problem and we will explain how we can help you and guide you through the process from start to finish.
Fixing Water Damage – Locations
We can help in many different types damage including:
Damage in Floors – leaks in concrete floors, floorboards, laminate and tiled floors.
Damage to and in in Walls – behind plaster, in cavities, under insulation, boarding etc.
Damage to Ceilings – including water leaks in ceilings, lofts, leak in floors in properties
Plumbing Leak Damage – bathroom leak, toilets, ensuites, utility rooms and kitchens.
Central Heating System Leak Damage – from various types of pipes and systems.
Leak Damage in Basement – basement water from fresh / tap water, waste water and sewers.
Water Leak Damage Outside – leaks in outdoor pipes or mains water feeds to properties.
Water Leaks Damage in Apartments / Flats – with landlords, tenants and property developers.
Damage in New Builds or Old Properties – tailored to the design and layout of the building
Depending on what type of damage you have at your property, and the type of construction it is, we'll optimise and tailor service to your needs, using different professional leak detectors and water / leak damage remediation equipment according to these factors and more. You can visualise how much eve a small water leak uses by checking out our article on how much water a drip uses.
We have collated some of our beneficial knowledge and experience into a really useful guide on how to reduce humidity, which is a worthwhile read as is our excellent guide to water leak repairs from start to finish. Additionally our remote monitoring guide has some really useful information and advice.
On the subject of dripping, check out our useful article about what a tundish is and our guide to an underfloor heating leak and also, pressure drying.
All of our technicians are trained and experienced in water leak detection too, helping to find your leaks in places not visible to the naked eye – like a bath leaking through the ceiling below or even a locating a leak under a kitchen sink. If you have a water leak, they can help find it. Wherever possible using non-destructive methods so as not to cause any further damage or disruption to your property. We work with many of the UKs biggest insurance companies to help them and their customers, they trust us to deliver a great service and so can you.
One of our popular guides is on how to clear toilet blockages, we have many other articles on our leak detection blog.
FROM OUR BLOG
How do you deal with water damage?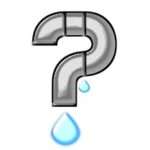 The best way to deal with water damage to a property will depend on the type of damage caused. For example, water damage from a water feed leak is very different to dealing with water damage from a sewer or drain problems. Plus, the extent of the damage and what is affected plays an important part, as well as the scale of the damage. Water damage specialist services such as ourselves can help with the evaluation of the damage and with repairs.
How do I dry out after a water leak?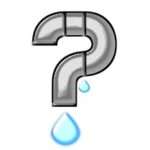 Depending on the type of water leak, size of it, length it has been running and scale of the areas affected, assisted drying is most likely required. This could include the use of industrial dehumidifiers to remove moisture and damp from the leak, supported by air movers (fans) and, especially in colder months of the year, heaters to aid the drying process. Experts such as ourselves will not only help with the drying but the monitoring of the process from start to conclusion of the job.
What materials can be damaged by water?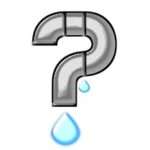 There are several types of material that are generally more resilient to water damage in a property (for example brick, concrete etc). However, even those can be affected by water damage, especially over a longer period of time and if the water damage causes movement in the property structure. On the flip side, some materials are fare more susceptible to water damage. This is especially the case for wood (both structural and flooring, such as laminate flooring), plasterboard (on walls and ceilings especially) and building contents too.