In this article we are going to look at situations where people have a ceiling leak from caused by a bath leaking through ceiling below the we will look at what some of the possible causes are and some of the challenges involved in locating these leaks.
This can include a bath leaking into kitchen ceiling below, other living rooms below, a leak under the bathroom floor or just a leak onto the bathroom floor, each of which has their challenges.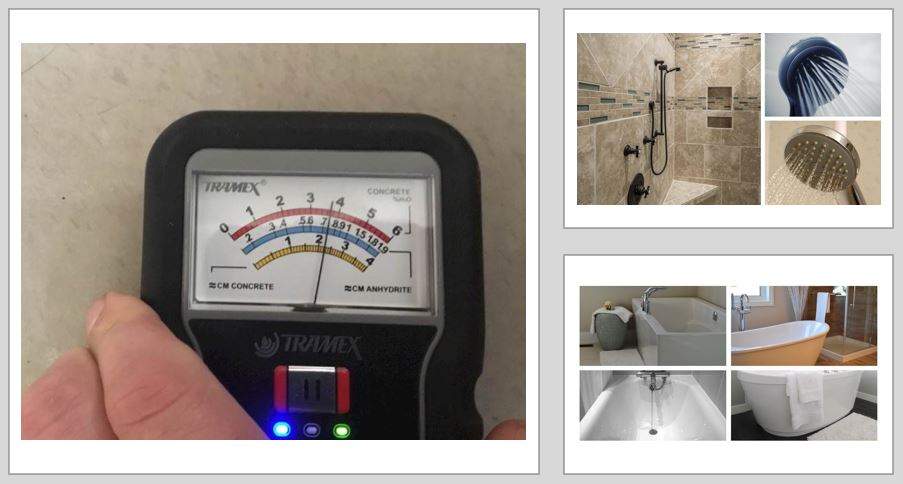 In our previous article about ceiling leaks we mentioned about how they are a fairly common source of plumbing leaks and one of the places people spot the signs of a leak in their property. People often notice a visible crack damp patch all staining on their ceiling which can be signs of leaking water above.
On top of that we know also that's a fairly common type of water leak are bathroom leaks, especially because of the amount of items that will have pipe work running to them and from them.
This includes toilets sinks bath's showers and radiators etc. Some of these will have hot water connections where as others will be cold water. Many will also involve waste water too. On the subject of waste water, see our guide on how to unblock a toilet.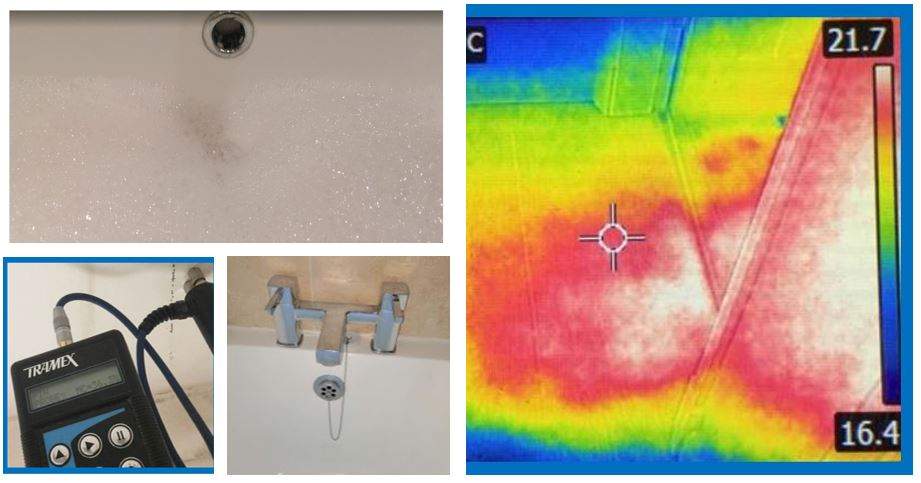 Why is my Upstairs Bath Leaking Through the Ceiling?
As we said earlier a bathroom leak from above can have many causes. and even if, for example, you know it is your bath leaking, even that can have several elements to it.
The most common caused of a bath leaking through ceilings below are:
A leak from the cold water feed to the bath
A leak from the hot water feed to the bath
A leak from the bath waste pipe or plug
A leak from the bath overflow pipe
A leak from damage to the bath itself
A leak from the seal around the bath
A leak from other areas around the bath
As you can see that's a lot of possible sources to consider even when you are confident the leak is coming from the bath itself. When investigating a bath leaking through ceiling below, clearly accessibility to these areas can be challenging. This will depend a lot on the construction of the bath and the surrounding area as well as the floor coverings for example. This features in our article about Christmas water damage safety plus in our similar article about Christmas mould safety.
As you might expect, if a bathroom is fully tiled on walls and floors and other surrounding areas (including panels around the bath) that can potentially be more challenging than a vinyl floor covering. Even things like whether or not there is a bath panel, and if it can be removed, can have an impact.
If you think your bath is leaking through your ceiling get in touch with the leak detection experts such as ourselves as soon as possible.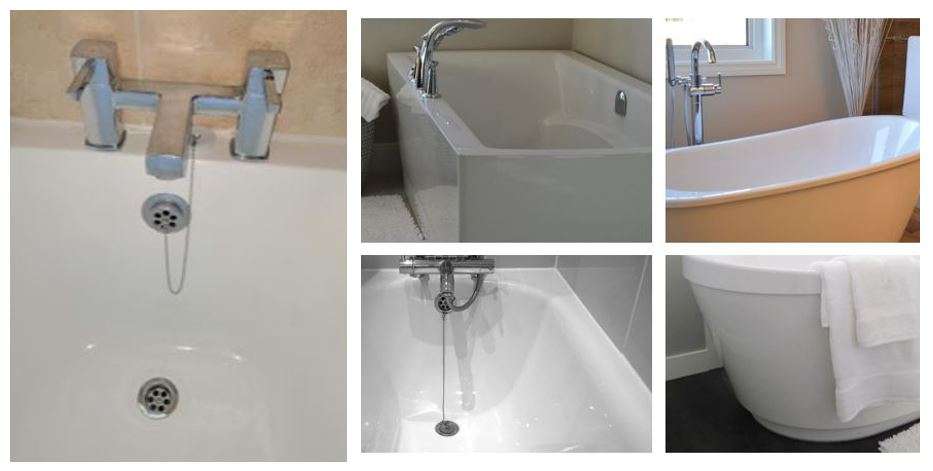 How do You Find a Bath Leak?
As we have said previously, wherever possible, we focus on using non-destructive water leak detection methods to help find leaks including when you have a bath leaking through ceilings below or leaking into ceiling voids below.
These can include:
Acoustic leak detection
Tracer gas leak detection
Pipe tracking leak detection
Other leak detection equipment such as borescope cameras
All these professional leak detection tools and devices combined with the expert training and knowledge of our leak detection engineers help to maximise the chances of finding your water leak. We discuss having a bath leaking through ceilings in our article about Christmas water leak detection.
Bath Leaking Through Ceiling? – Other Considerations
First of all, people sometimes think they have a bath leak from above but in some instances it isn't actually the bath leaking, it can be something else. This can include such things as a shower leak, toilet leak or central heating leak etc. We are experienced in finding all of these types of water leak when carrying out our leak finder and detection work.
Another important thing to consider when you have a bath leaking through ceiling below is clearly the health and safety aspects of this. not least because debris can fall from the ceiling and either cause risks to the occupants below or potential damage to the contents in the room below. More on this later.
A final thing to consider is the water damage caused by a bath leaking through ceiling below. Thankfully as well as being linked action experts all of our link detection engineers are qualified water damage restoration experts. on top of this they are trained in asbestos awareness and testing, so if they suspect the materials affected potentially contain asbestos they are able to carry out asbestos testing. This could be something like a texture coated or artex ceiling which can sometimes contain asbestos.
Bath Leaking Through Ceiling Lights
Very much on a similar theme to the areas above one of the other health and safety considerations when you have a bath leaking through ceilings is that very often this can be in the proximity of electrical wiring including those linked to your ceiling lights in the room below. Or similarly, into a leak into the ceiling space where wires for these fittings are likely to pass.
In fact in some instances the bath leak can actually go through the holes made for the wiring to feed the lights which clearly can be a danger for both electrical shock, fire risks, and even things like slips trips and falls if for example the water spills onto a kitchen floor below, as an example.
In this situation we can arrange for an electrical safety test if needed, this can happen when people get a leak under a sink in their home.
Bath Leaking Through Ceiling – Related Articles
Here are a few other posts related to this subject that you may find useful to review too:
So if you have a suspected bath leaking through ceiling from above and need help finding the source contact our friendly and experienced team for help and guidance.

Here is a useful article explaining more about our services as a water leak detection company.
We are experts in dealing with flood water damage for people in the York and Yorkshire Coast area, so if you have been flooded, please contact our friendly team to arrange for help and guidance. We also deal with Yorkshire water leaks in local homes and businesses. Here are the local areas we cover.
At Rainbow Restoration – York & Yorkshire Coast we are experts in Leak Detection, including Commercial Leak Detection and also Water Damage Restoration, so if you need help finding a water leak or getting your property back to normal after a water damage or a flood, get in touch with our friendly local team who will be happy to help you with this. We are based in York and help find water leaks in York as well as providing help with house mould.
Can a leaking bathtub be repaired?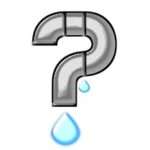 Deciding if a leaking bathtub can be repaired will depend on the type of bath leak you have, the location of it and how bad the damage is. For example, if you have a small leak around the seal of your bath then that can be a simple fix. However, if for example you have a badly damaged bath (for example a crack) it may not be simple, practical or cost-effective to fix it. On many occasions, a leaking bathtub can be fixed though.
Where can a bath leak from?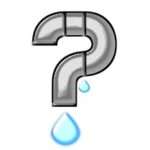 A bath can leak from many possible places, including – the cold water feed to the bath, the hot water feed to the bath, the waste water pipe from the bath, the bath overflow, the seal around the bath, the bath plug leaking or even from damage to the actual bath itself. Sometimes you can get cracks (which may not be immediately visible) that can leak in or around the bathtub area.
Why is my bathtub leaking from underneath?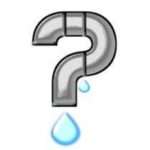 There are a umber or things that cause your bathtub to leak from underneath and they can be challenging to locate, especially in confined places. You might spot this first suspecting your bath leaking through ceilings below but it could be a number of causes. This can include hot and cold water feeds, waste pipes and connections, overflow pipes, seals around baths or actually something near your bath but not the bath itself. A leak detection company like us can help you locate them.