One of the common reasons that people contact us about our leak detection services is when they see their boiler losing pressure and think they have a water leak, which can be one of the possible causes that this is happening.
But how do you spot a boiler losing pressure and what do you do about it? In this useful article we list some of the signs to look out for and what you should do about it. Spoiler – don't ignore it, no matter what the cause but especially if it is caused by a water leak as it can cause water damage to your property over time.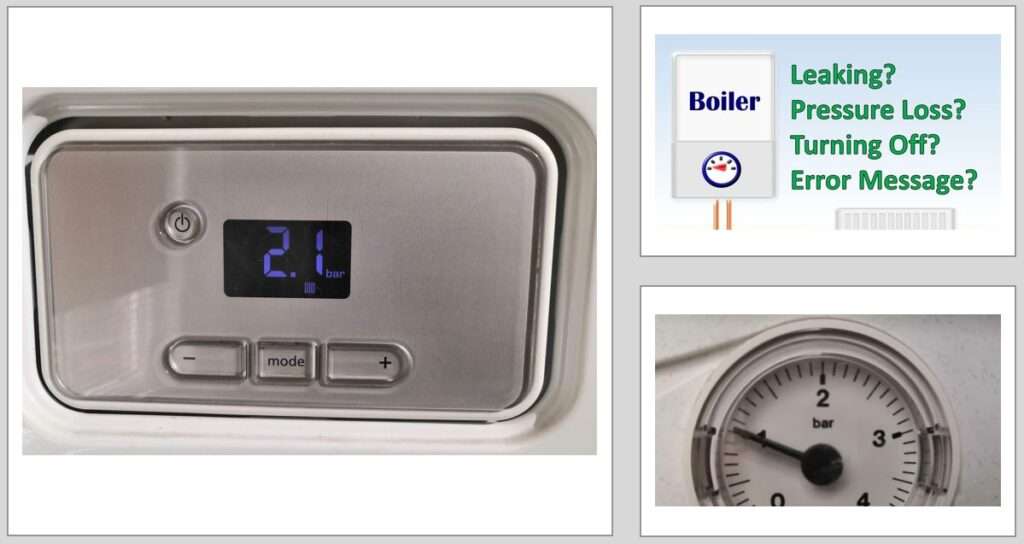 Before we go into that, lets (very quickly) explain why boiler pressure is important. Pressurised boiler systems such as combi boilers, as the name suggests, operate at pressure within a contained pressurised system. The systems usually have an 'optimal' pressure that they operate at (sometimes a range) which typically is in the 1 to 2 bar range. Note – check for your specific boiler what this should be by checking with the manual or manufacturer.
Consequently, when boilers lose pressure and fall below a certain level they may shut down altogether as a precaution. But how will you know this has happened? Let's look at these signs.
How do I Know my Boiler is Losing Pressure?
Here is a list of some of the main things to look out for (one or more may happen):
The Boiler Pressure Gauge is falling – this is perhaps the most obvious on this list. Most modern boilers will have a pressure gauge on them which will either be digital (like on the left hand side of the picture above) or a manual dial (on the right). This may actually display a range, sometimes in green on the dial for the optimal / normal operating range. Dropping below that, showing a boiler losing pressure, may stop the boiler working.
A Flashing Light or Fault Code on your boiler – other than the above, many boilers have an indicator light and/or a fault code display which indicates that your boiler is losing pressure. You can check what these lights mean in your manual or on your manufacturers website. If in doubt, get help. More on fault / error codes later.
Your heating does not work / boiler turns off – as we said earlier, boilers often have a point at which if the pressure falls below a certain level, the boiler turns itself off as a safety measure. This will likely be the point at which the light or fault code in (2) above displays too. It may also be shown as a red area on a manual pressure gauge dial / display. If your central heating is not coming as usual, check for this on the display.
You keep topping up your boiler – in some situations, and if you are confident enough to do so, people top up their boiler with additional water to repressurise it back to normal levels and to keep it working. This can happen occasionally, especially for example after your heating has not been on for a long time (like after summer) but but doing it regularly is definitely a concern and needs investigating.
You can see water is leaking out – in some instances, you actually see water leaking out of central heating pipes. This can be directly from actually seeing dripping water (e.g. at a radiator joint) or indirectly from seeing wet or damp patches on walls, floors (from a leak in floors) or ceilings. This may be accompanied by staining and/or a smell – anyone who has drained or bled a radiator will know the colour and smell of the water in a central heating system!
We discussed some of the things above more in our article about when your boiler pressure keeps dropping. In that we explained that the pressure loss can be from a water leak, but also from a fault with the boiler etc (which is a separate subject). So, if you have had your boiler professionally checked or serviced recently and it is still losing pressure, or if your plumber or heating engineer thinks you have a leak, get in touch and we will send out one of our leak detection team to help find your central heating leak and help stop your boiler losing pressure.
Boiler Losing Pressure – Fault Codes
We mentioned earlier about fault codes often accompanying or signifying a boiler losing pressure. In this section we go through some of the most common boiler fault codes for some of the more popular boiler manufacturers.
In the UK some common boiler manufacturers include – Worcester Bosch, Alpha, Ideal Boilers, Baxi, Glow Worm, Vaillant, Ferroli and more. Each is designed and manufactured differently and, even with the same manufacturer, different models will have different features and error codes. Check your boiler details in your manual or with your manufacturer. Many have good information online, like this page from Ideal Heating Boiler Fault Codes.

Here are some of the more common codes to look out for:
Ideal Boiler F1 Fault:
This is a common fault code which can indicate boiler pressure loss. In fact on that page we linked just now it currently says – "Flashing F AND 1 Low Pressure – Water pressure is too low in the system and will require topping up to between 1 and 1.5 BAR"
Vaillant Boiler F75 Fault Code:
Note it is 'Vaillant' not 'Valliant' as some say. This is another fairly common boiler fault code which can be associated with loss of pressure and possibly a water leak or boiler fault. On the Vaillant Fault Codes page, they say currently for F75 or F.75 as they say – "Fault: Pump/ water shortage: Water pressure sensor and/or pump defective, air in the heating installation, insufficient water in the product; connect external expansion vessel to the return". That itself indicates a few reasons for possible causes of the boiler losing pressure.
Other Vaillant Fault Codes may include – F12 / F22 / F24 / F73 / F75
Other Manufacturer Boiler Fault Codes:
Here are some other codes that may be associated with a boiler losing pressure:
Alpha Boiler Fault Code – E10
Baxi Boiler Fault Codes – H.02 – .06 / E.02 – .07 / E118 / E119 / 125
Ferrolli Boiler Fault Codes – F35 / F37 / A37
Glow Worm Fault Codes – F9 / F22 / F24
Worcester Bosch Fault Codes – A1 / CE 207 / H07 / 1017W / 2970 B / 2971 B / 224 V
Again, as you can see even within the same manufacturers, different codes exist to show a boiler losing pressure. Codes may change over time too, so always check for your specific make and model and speak to your manufacturer or Gas Safe (which replaced the 'CORGI' system in 2009) heating engineer if in doubt.
Boiler Losing Pressure – Possible Causes
As we said earlier, there can be a number of reasons for a boiler is losing pressure, but here is a list of some of the possible or more common causes:
Bleeding / replacing radiators – can result in water loss from the system, reducing pressure
Issues with the pressure relief valve (PRV) – a faulty PRV can leak water from the system
Issues with the expansion vessel – can also leak water from the system if broken
A water leak – if it is a water leak, there can be various causes as you might expect
Some of these, particularly the PRV issue, might be seen via the boiler tundish.
More on that last point below…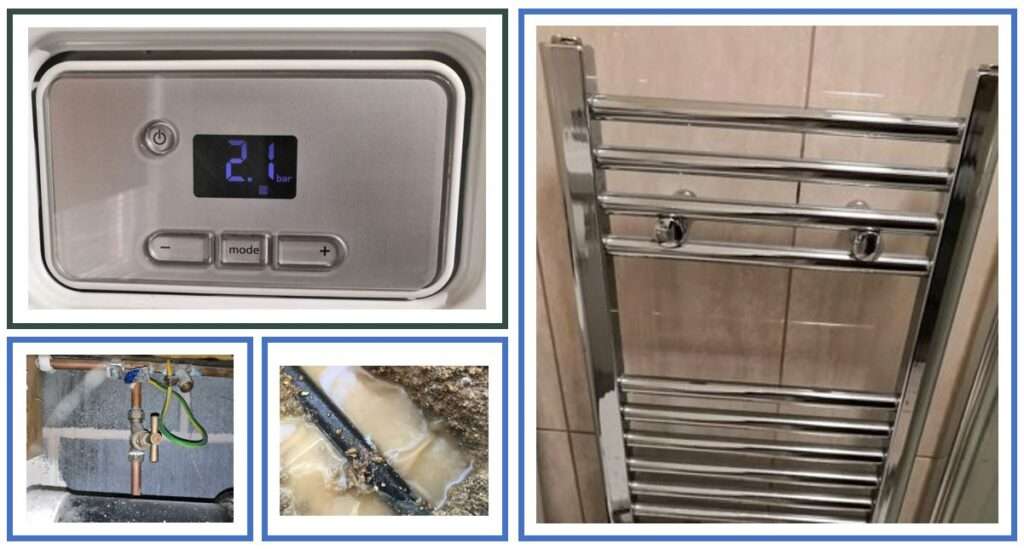 Boiler Losing Pressure and Water Leaks
If you do have an actual water leak in your central heating system, causing a boiler losing pressure, the clear question is – Where is the leak? It could be one of the following…
A water leak from the boiler itself (see comments above)
A water leak from a radiator on your heating system
A water leak in your central heating pipes
A water leak in the connections / joints between the above
A combination of the above, if you have more than one leak
On the subject of heating systems, heat is a one of 3 fire triangle elements alongside fuel and oxygen.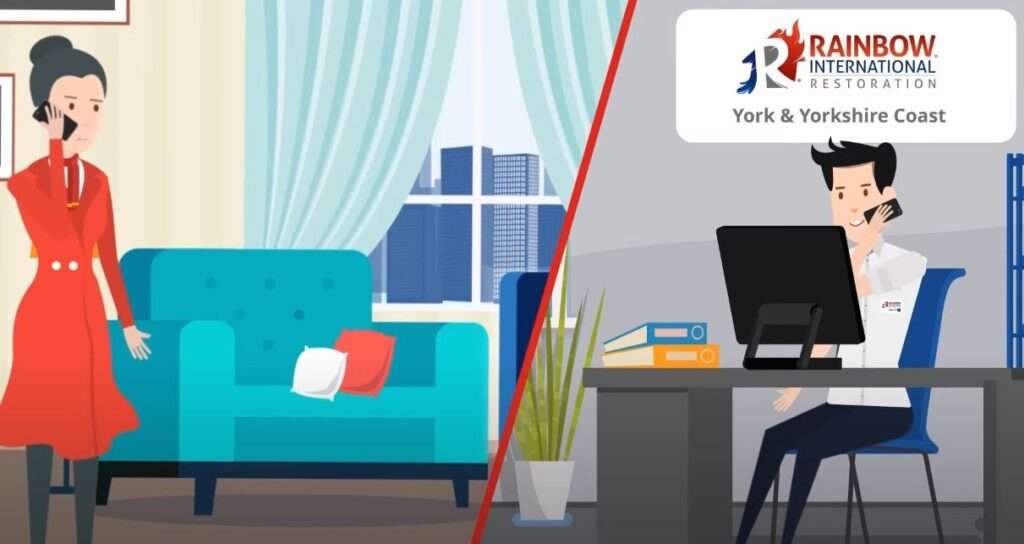 Getting Help with Water Leak Detection
If you or your heating engineer have ruled out faults with the boiler and suspect you have a water leak in your central heating, causing a boiler losing pressure, our leak detection team can help.
As you might expect, and also based on your knowledge of your central heating system and boiler etc, pipework often goes in many different parts of your house and, for obvious reasons, they may not be visible. Pipes are often in walls, floors or ceilings. They may even be buried underground in some instances, possibly causing a water leak in concrete floor for example, maybe as part of an underfloor heating leak.
We have an article about ceiling leaks that explains some of this in more detail. We also discuss the subject of a boiler losing pressure being a possible indication of Christmas water damage. Clearly, boilers and central heating systems are used more in colder months and so demand for our services in this area increases during this time.
This is often why specialist trace and access trained engineers (leak finders), with their skills, experience, systems and (importantly) professional leak detection equipment are best placed to maximise the chances of finding any water leaks. We offer this service to domestic customers, insurance companies, but also commercial leak detection for businesses who have a water leak at their property.
So if you have a boiler losing pressure contact our friendly team for help and guidance.
A boiler losing pressure is one of the examples in our article and video about our range of services as a local water leak detection company.
We are experts in dealing with flood water damage for people in the York and Yorkshire Coast area, so if you have been flooded, please contact our friendly team to arrange for help and guidance. We also deal with water leaks in Yorkshire homes and businesses. As you might expect, many of our customers get their water supply from Yorkshire Water who collects, treats and supplies water from some of the rivers of Yorkshire above to supply to their network of customers across Yorkshire. Here are the local areas we cover and services we offer.
At Rainbow Restoration – York & Yorkshire Coast we are experts in Leak Detection and Water Damage Restoration, so if you need help finding a water leak or getting your property back to normal after a leak or flood, get in touch with our friendly local team who will be happy to help you with this.
How do you fix a boiler that loses pressure?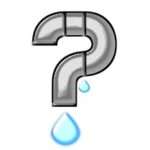 How you fix a boiler that loses pressure regularly will depend on what the cause of the problem making it lose pressure is. For example, it could be a water leak which would be very different to fixing a broken pressure relief valve (PRV). So before thinking about a fix make sure you know what is causing the boiler losing pressure in the first place, if indeed it's not the actual boiler itself.
How often should a boiler lose pressure?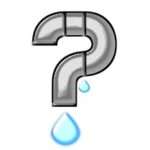 Although a boiler pressure may vary from time to time it should not, under normal operating conditions, drop to a level which stops it working. That is unless you have a problem with the boiler itself (from one or more of its components – such as a PRV or Pressure Vessel) or something else such as a water leak causing the loss. If your boiler is losing pressure regularly, get it checked out.
Why do I have to keep adding water to my boiler?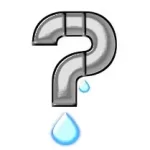 If you have a pressurised boiler system, such as a combi boiler system, then you should not have to keep adding water to your boiler, certainly not regularly. It might be the case when you have not used it for a long time (such as after summer) but if you have a boiler losing pressure constantly it is likely you have a boiler fault, or commonly, a water leak on your boiler network which is leading to the water being lost. If this is happening get help to resolve it.