Having a leak under sinks in your property are relatively common in the UK, with people having a leak under sinks in kitchens being the most common of those, as you might expect. Interestingly, as you will see later, it is not uncommon for people to think they have a leak from their kitchen sink but it turns out to be something completely different, as we will explain for you.
As local experts in water damage management and leak detection, including kitchen sink plumbing leaks we come across a leak under sinks (or near that location) in kitchens regularly during our inspections and investigations.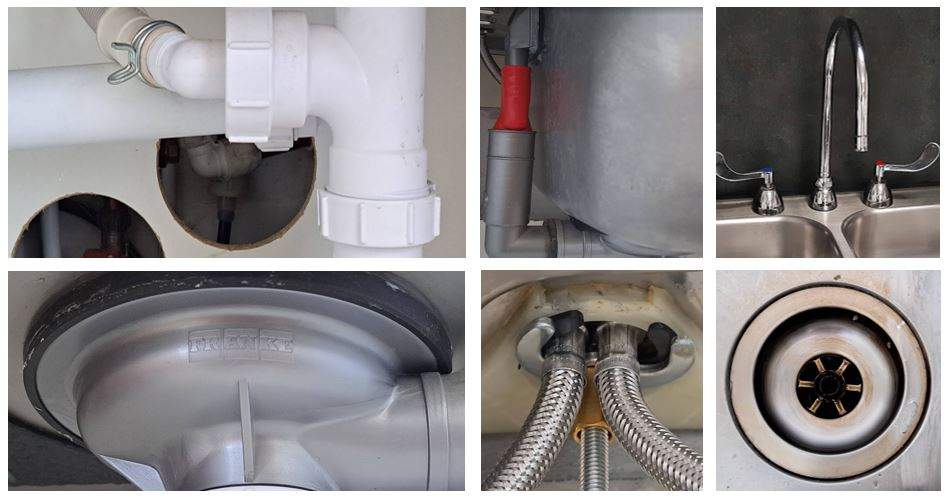 Finding a Leak Under Kitchen Sinks
In many instances they can be relatively clear and straightforward to find and fix water leaks. However, on other occasions it can be quite tricky to locate a leak under sinks, especially in situations where you can see visible water but cannot necessarily see where the water leak is coming from.
As water leak detection experts, we frequently help to find water leaks in kitchens and other rooms in properties. in this guide we are going to share our experience and list the 6 most common causes of a leak under kitchen sinks or nearby – some of the items on this list could be relevant to other sinks or basins in rooms in your property, especially a leak under sinks in utility rooms too some will apply to a leak under bathroom sinks.
Because leaks under sinks, or near to sinks are often in confined spaces or behind kitchen cupboards and appliances, several things can help to locate them. In particuar:
So, let's now explain the most common causes of a leak under sinks.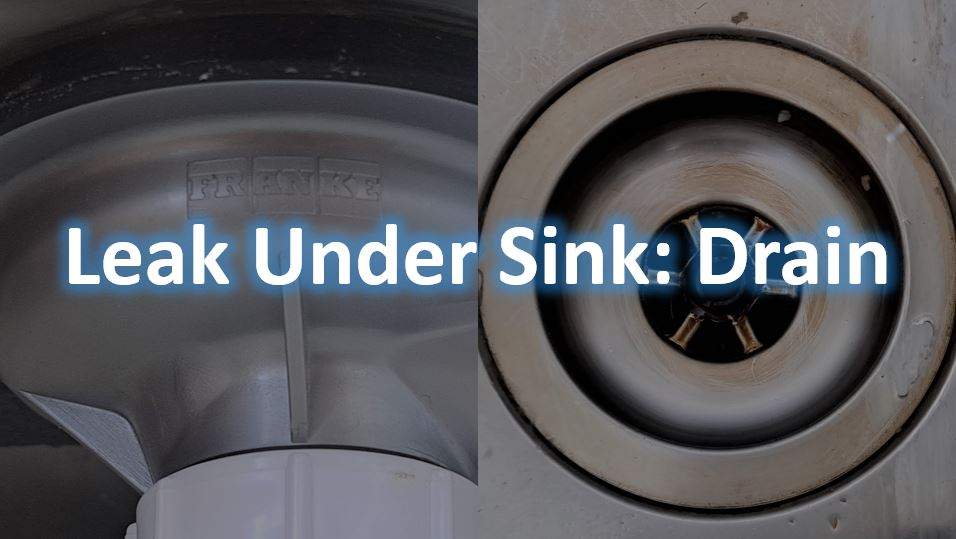 1. Leak from Drain Under Sink
One of the potential causes of a leak under sinks is the drainage plumbing pipes, which are most commonly plastic waste pipes connected to the sink plug hole. This can include connections and other fittings connected to those pipes both at the kitchen sink end but also where it goes into the drainage / waste system, often via a soil stack.
Remember also, that within these 'network' of pipes there can bee feeds from appliances such as dishwashers or washing machines too. See more on that topic later.
Related to that, and further to our point previously, let's look at the next potential source of a leak under your sink in the kitchen, the u-bend (or ubend as others spell it as).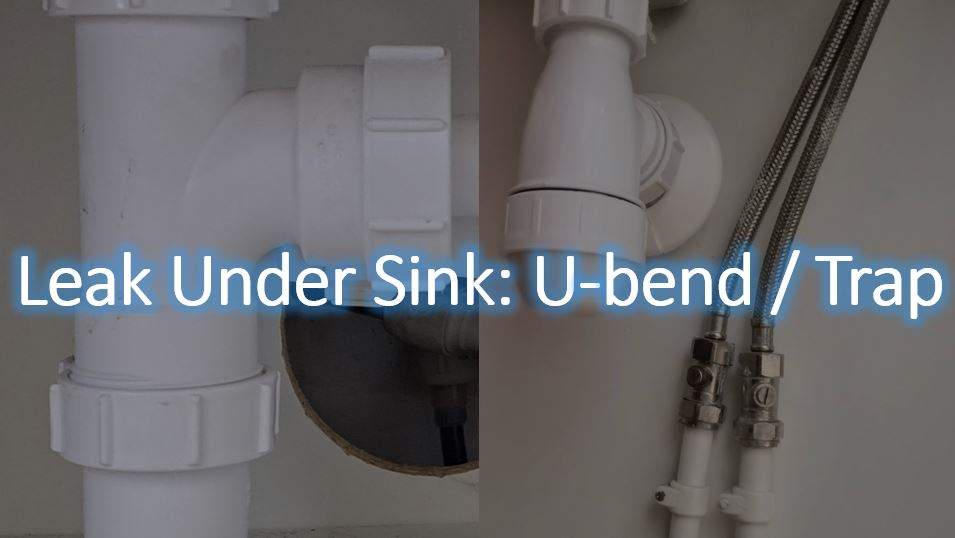 2. Leak from U-bend Under Sink
Clearly sink u-bends, or waste traps as they are also known as, are an integral part of the waste system and can be a source of a leak under sinks in kitchens. In part this is because they are subject to a lot of use with variances in temperature (hot and cold water), can become blocked and accordingly suffer from movement and wear and tear.
The other think about kitchen sink u-bends is that they are generally connected at both end, often with threaded connections (with rubber washers). This coupled with the movement etc previously mentioned means that they can come loose or, in the worst case, become dislodged or disconnected and leak water. However, in most instances, people will notice (or smell!) something before that.
Regarding smells and odours, we have a great post regarding Sewage Clean Up and Smells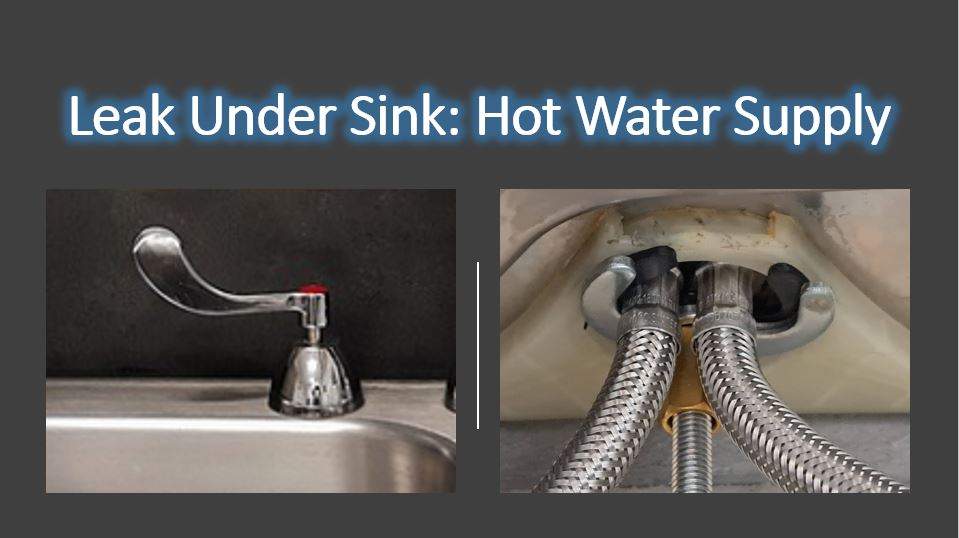 3. Leak from Hot Water Supply Under Sink
The next potential source of a leak under kitchen sinks is your hot water pipe plumbing which might connected to a dedicated, separate hot tap or kitchen mixer tap (as seen on the connection shown above right). The source of this hot water will vary according your property, perhaps from a hot water tank or combi boiler, maybe even an instant hot water tap, such as from a brand like Quooker, Triton or Redring.
Either way, these pipes and connections can leak sometimes too and, a bit like we mentioned earlier, hot water pipes can get movement and stress put on them from expansion (and subsequent contraction), making things wear, move or crack over time. Plus, like the photo above again, this can involve other connections like to flexi-hoses to the sink taps or faucets.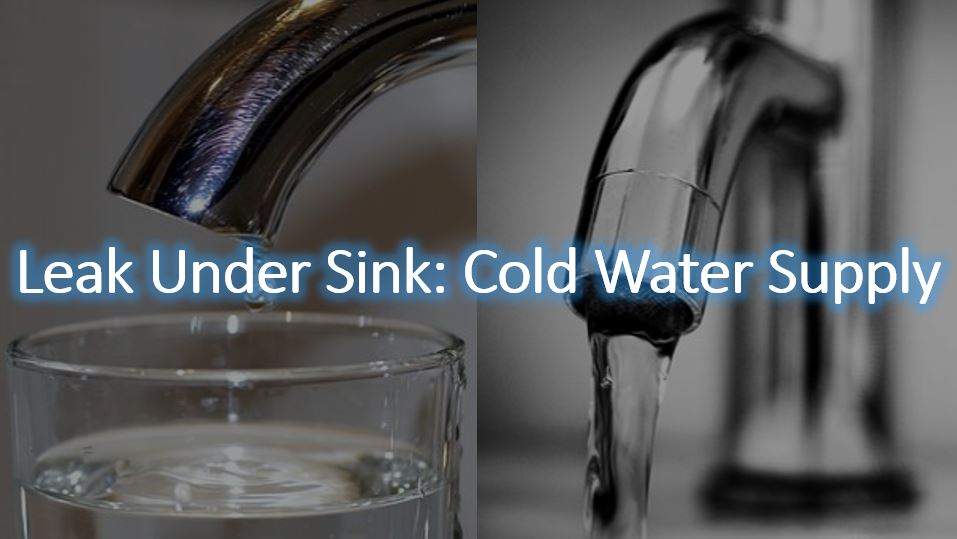 4. Leak from Cold Water Supply Under Sink
Very much following on from the previous example, similarly the pipework sourced from the mains water cold feed is going to be part of the plumbing around the sink are and can cause a leak under sinks in kitchens. They may not have the same level of movement (like we mentioned with the hot water taps) but, on the other hand they are likely to be under higher pressure and the associated stress that generates.
In some instances, because of that higher pressure, leaks from cold water pipes under or around sinks can be more sudden and leak more water quickly. The other thing is that, the cold water feed is often associated with a stop tap under the sink (a common place for them to be located) and stop taps can leak or break too.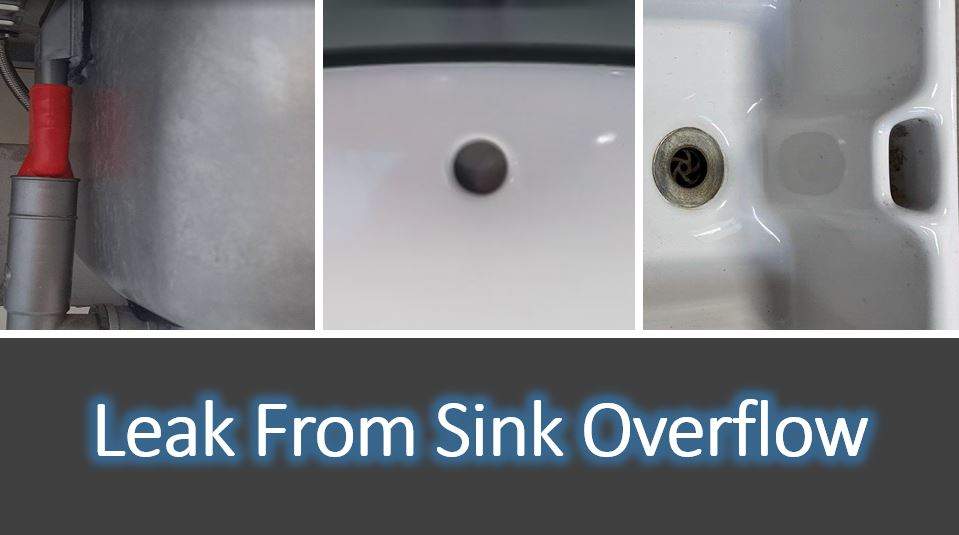 5. Leak from Sink Overflow
One of the less prevalent ones on this list is when you have a leak under sinks related to overflow pipes. That said, that is in part why we have put them on this list as they are commonly missed whilst people are investigating other things we have mentioned.
These overflow pipes vary in design, how they are connected and where they feed to but they can cause a leak under kitchen sinks on occasion, often gradually too (unless your sink is overflowing regularly – unlikely).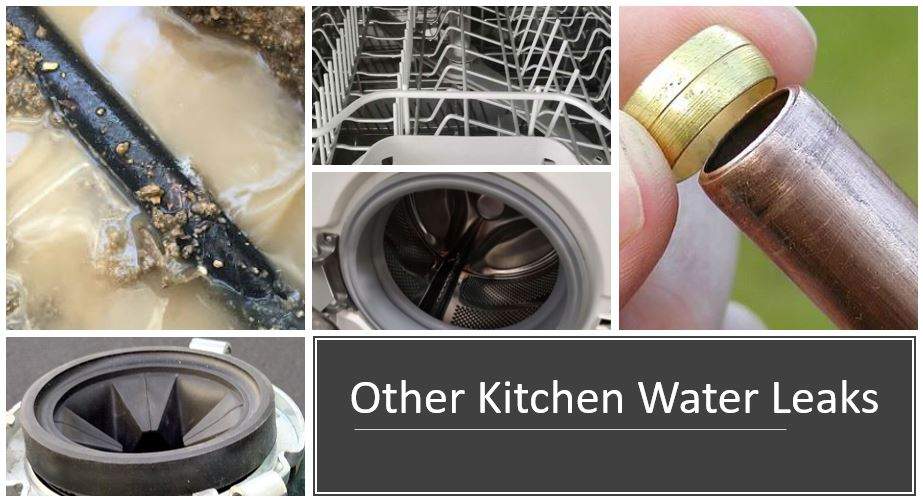 6. Leak from Other Items Near Sink
When trying to locate a leak under kitchen sinks, the other important thing to remember is that often there can be other appliances and fitting in proximity to that location which cause the leak, not the actual sink and sink plumbing connections themselves (copper or plastic). This can include: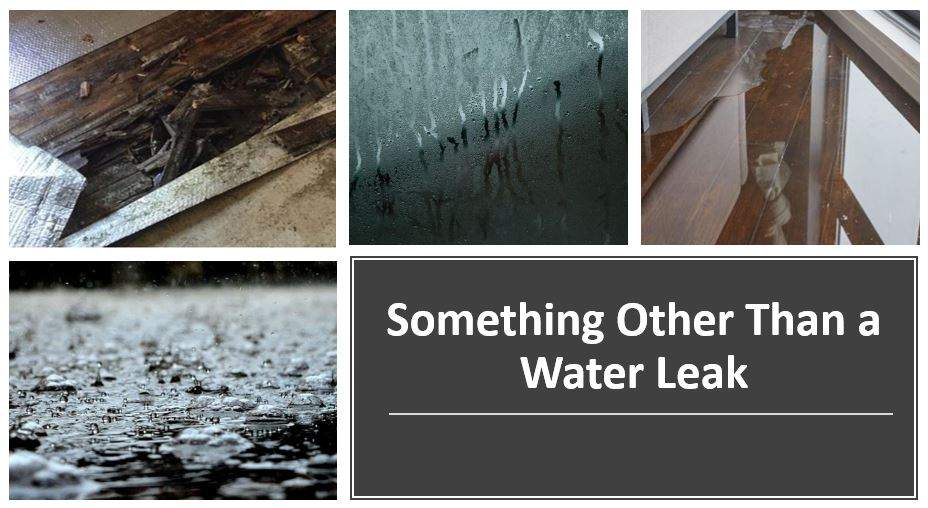 Something Other than a Water Leak
All of those things we mentioned on the 6th section about having a leak under sinks in kitchens are actual leaks. However, it is important to remember that it may not actually be a leak causing the moisture, damp and mould, including mould in your home or similarly condensation problems you are experiencing.
On that, you might find some of our associated articles beneficial:
Thankfully, we are experts in those too so whether you have a water leak or not, if you need help or assistance with any of those issues, please contact our friendly team.
We hope you found our guide to having a leak under sinks in kitchens useful. On a related subject, see our article about How to Unblock a Toilet or our other guide to a Bath Leaking Through Ceiling.
Leak Under Sink – Related Articles
Here are a few other posts related how you unblock a toilet: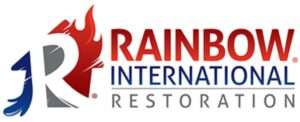 Here is a useful article explaining more about our services as a water leak detection company.
We are experts in dealing with flood water damage for people in the York and Yorkshire Coast area, so if you have been flooded, please contact our friendly team to arrange for help and guidance. We also deal with Yorkshire water leaks in local homes and businesses. Here are the local areas we cover.
At Rainbow Restoration – York & Yorkshire Coast we are local experts in Leak Detection, including Commercial Leak Detection and also Water Damage Restoration, so if you need help finding a water leak or getting your property back to normal after a water damage or a flood, get in touch with our friendly local and dedicated team who will be happy to help you with this. We are based in York and help find water leaks in York.
How do I fix a leak under my kitchen sink?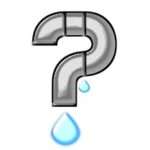 In order to fix a leak under sinks, including kitchen sinks you must first establish where the leaking water is coming from. In some instances this will be simple and obvious, however, on other occasions it can be tricky to locate a water leak under sinks. This is because not only are there likely to be a number of pipes, connections, fittings and appliances in the vicinity but also they may be inaccessible or fixed making locating the leak more challenging. Once you have found the water leak, then you can decide the best method to fix it.
Why is water leaking from my kitchen sink?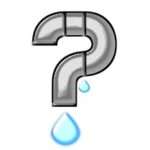 There are a surprisingly large number of things that can cause leaks around kitchen sinks or a leak under sinks in general. As we have explained and highlighted in this simple guide, this can include drain pipes, hot and cold water feeds, overflows, leaks in u-bends / waste trap pipes or other fittings. It could be something not directly linked to the sink but close by, like a dishwasher or washing machine. Plus it may not actually be a leak, it could be damp or condensation too.