When carrying out our water leak detection services, one of the common materials we come across is underground water leak in concrete floors (or under them). Finding a water leak in concrete floors or a water leak under house concrete can be challenging and often requires specialist knowledge and equipment.
Not all concrete floors are the same and therefore finding and fixing a water leak in concrete floors (or walls) will depend on the specific construction of the property in hand. We tailor our service to the individual construction and layout of your home or business.

Two common types of concrete floor are solid ones (slabs), which may have pipes embedded in them and secondly insulated concrete floors which may have different layers of material (such as kingspan type materials and damp proof membranes). As you might expect, with both of these types of concrete floor, accessing a water leak in concrete flooring after you have found the leak, brings about its own challenges as does drying damp concrete. More on that later in this informative guide.

Ways to Find a Water Leak in Concrete Floors
Thankfully, experts in water leak detection such as ourselves have a range of tools and techniques at hand to help locate a water leak in concrete floors. for example this might include:
Thermal Imaging Leak Detection – especially when the leak is coming from and underground heating pipe or even an under floor heating leak
Acoustic Listening Leak Detection – using highly sensitive devices coupled with the trained here of a leak detection engineer we can listen out for the tell tale signs of a water leak. the sound itself of the water leak in concrete floors, or under concrete, can give an indication of the type and scale of water leak involved.
Pipe Tracing Devices – such as our 'CAT and Genny' system which allows us to map out pipes hidden in or under concrete across your property and even indicate the depth at which they are buried under the concrete floor. This is different to the next item.
Pipe Detection Devices – another method for locating pipes to help find a water leak in concrete flooring. These devices can help to show the depth of pipes in concrete floors too.
Moisture Mapping Technology – which can help to detect subtle variances in moisture levels within a concrete floor, often using specialised moisture meters (such as Tramex or Protimeter moisture meters) helping to narrow down the location of the water leak in concrete floors – they are excellent leak detectors.
Tracer Gas Leak Detection – which in some situations is very beneficial in our leak finder service, such as finding a water leak in concrete flooring. In this system, an inert gas is fed into the water pipes and a specialist tracer gas sniffer affectively smells or sniffs the air looking for where the gas is leaking out. This can even be a very minor whole in the pipes in a concrete floor.
Alongside the above we have access to a wide range of devices to help locate water leaks in concrete flooring. very importantly, we use these on the items listed above in conjunction with each other to help locate any water leaks and to aid water leak repairs, they compliment each other very well in the right hands. There is no 'one size fits all' magic leak detector!
As you might expect when digging into or accessing a concrete floor (where the 'access' in trace and access comes from!) we want to be doing it in a location where there are strong signs of a leak.
Copper Pipes in Concrete Floor Leaking
Despite what you might think, copper pipes can actually suffer from corrosion which can cause or contribute to a water leak in concrete floors. We see this quite commonly, in particular with central heating boiler leaks. Copper is a reactive material which can oxidise and weaken the pipes. Interestingly, this is one of the reasons why inhibiter liquid is putting to central heating systems to help prevent corrosion both to the pipes and boiler system.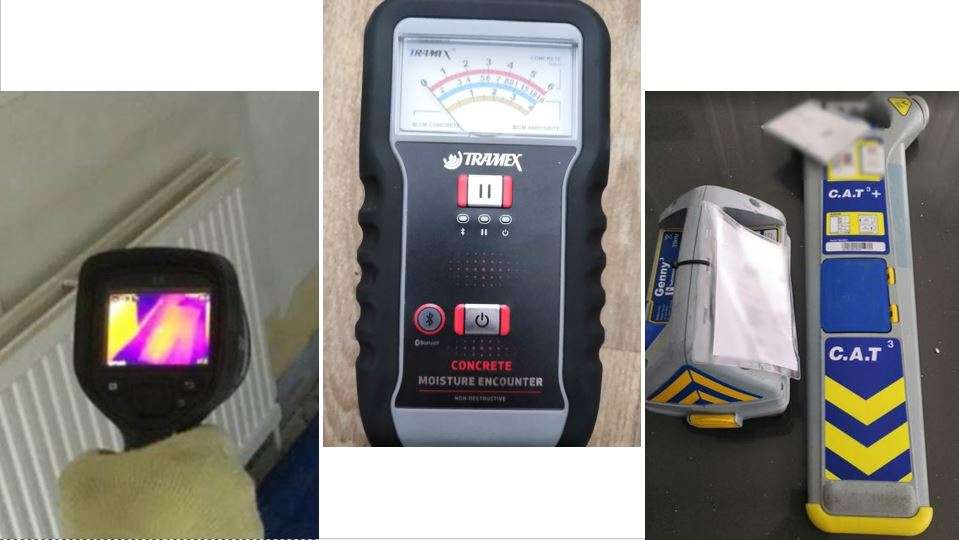 Does Concrete Absorb Water?
The simple answer to that is yes it can, regular untreated concrete flooring over time, if exposed to a water leak or a flood etc, can absorb moisture which can lead to water damage in your property. Remember as we always say if you think you have a water leak in concrete floors or any other part of your property make sure you get it checked out immediately before too much damage is caused.
To highlight how concrete can absorb water we made the short video below where we tested this out:
As you can see from the video in what is a relatively short period of time (under 9 hours) the simulated water leak in concrete absorbed water, so much so that it became completely saturated with water.
Leak in Concrete Floor or Rising Damp?
We are we are also experienced in understanding damp problems in domestic and commercial properties, including both rising damp and penetrating damp (which themselves are very different). Why is that important?
Unlike some other companies, we are much more than leak detection experts, we have knowledge and experience of a whole range of other services that we offer. This means that we will be on the lookout for other things when searching for your water leak. And very importantly, can tell you sometimes that you do not have a water leak. It may be another problem altogether which you still need to know about.
As you might expect, it is important to understand these issues because, first of all you don't continue hunting for a leak that is likely not there but also, the solution is very different depending on the cause of the damage caused by the moisture in your floor (or anywhere else in your home), which can even include issues with humidity, ventilation and/or condensation problems.
For more information on damp see our article on basement damp problems. And on the topic of a leak in concrete floor, our guide to pressure drying which can be used after. You will also find our guide to remote monitoring useful.
If you have a problem with a water leak, damp or condensation at your property, get in touch with us and we will help and advise you.

Drying a Concrete Floor After a Leak
As we mentioned earlier different types of concrete floor are constructed in different ways with some being solid and others being insulated / layered flooring which may contain various materials. Depending on both the construction of the floor the length of the water leak and the amount of water lost will impact on the method used to dry the floor or subfloor.
Thankfully at Rainbow Restoration – York and Yorkshire Coast we are experts in water damage and this includes drying properties after a water leak or flooding. we have a wide range of specialist drying equipment designed for different situations. This is important because, without such equipment, moisture can become trapped behind construction materials not designed to let water escape (acting as vapour barriers).
We also have injection or pressure drying and heat drying equipment designed to help dry after a water leak in concrete flooring. If you need to find the link in concrete floors or a concrete slab, and dry it afterwards, contact our local friendly team today it will be glad to help you.
To find out more about leaks in flooring of all types, see our article on underground leak detection.
We are experts in dealing with many types of water damage for people in the York and Yorkshire Coast area, so if you have a leak in floors in your home or business, contact our friendly team to arrange for help and guidance. We also deal with water leaks in Yorkshire homes and businesses, including water leak detection in York. Here are the services we offer locally.
At Rainbow Restoration – York & Yorkshire Coast we are experts in Leak Detection and Water Damage Restoration, so if you need help finding a water leak or getting your property back to normal after a leak or flood, get in touch with our friendly local team who will be happy to help you with this.
How do you fix concrete leaks?
Before carrying out repairs to concrete floors and adjoining materials, the priority is to make sure that you have found and fixed the water leak that has caused it in the first place. Otherwise, you risk the problem returning after your repairs which is clearly not desirable.
How do you stop an active concrete leak?
The priority is to locate the cause of the leak and fixing it to starve the leak of it's active water supply. Otherwise, if the leak persists over time it can cause water damage to your property, including other building materials connected to it, or even contents in your property, either directly or indirectly through secondary damage.
Why is water coming through my concrete floor?
This can be caused by a number of things but, perhaps most commonly, can be caused by a water leak in or under your concrete floor or a problem with rising damp. It can also be caused by a rising water table under your property, which in turn may cause (or be made worse) by damage to your property foundations, concrete slab or DPC / DPM.